Trekking in Ba Vi National Park: A brilliant option for Hanoi Day Tour
Undoubtedly Ba Vi National Park is one of Vietnam's most awesome trekking trails with the picturesque views. However, this destination is less known than other Vietnamese trek routes in the international expat community. Check out the reasons why you should not miss trekking experience in Ba Vi National Park and let yourself continuously stand astounded by many interesting things found on the trekking route.
Located in Ba Vi Mountain Range, about 60 kilometers to the west of Hanoi, Ba Vi National Park, originally a French hill station, is considered as a fascinating destination for a weekend getaway. With a total area of over 10,000 hectares, Ba Vi National Park has everything to offer, from an amazingly biodiverse area of tourist resorts, a string of mysterious French ruins to a host of intriguing mini-hikes and trekking trails.
A winding way in Ba Vi Mountain Range.

No matter your trekking experience or physical fitness, you'll find a trek route in Ba Vi National Park for you. Below, we've listed out some striking features why a strenuous climb in Ba Vi should be priority in your Hanoi day tour.
Location
Easily accessible from Hanoi capital, just about 1.5 hours by motorbike or 45 minutes by car, you can reach Ba Vi National Park, a Northern Vietnam's most outstanding natural area. Usually, to travel from Hanoi to other tourist attractions, you may need at least a half day for transferring along with one night to take a rest. However, Ba Vi National Park is able to offer you a great day trip from Hanoi, inclusive of transferring time.
Read here to know how to get to Ba Vi National Park from Hanoi.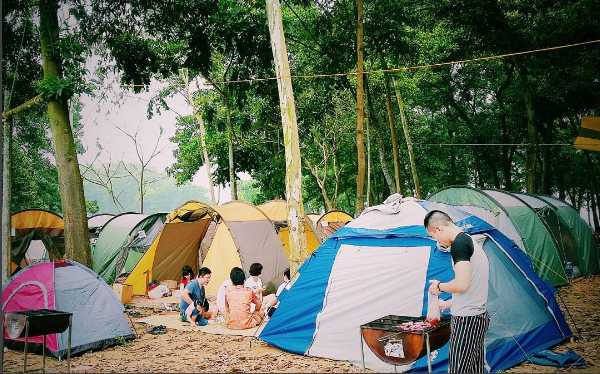 Celebrating a jungle picnic party in Ba Vi National Park is ideal for Hanoi Day Trip.
For one day trip visiting Ba Vi National Park, you can easily conquer the highest peaks in the mountain range, discover a host of ancient relics hidden deep inside the jungle or simply celebrate a jungle picnic party with friends. Besides, some travelers prefer a
2-day trip in Ba Vi National Park
combining harmoniously between adventure and relaxing. With an ideal greenery space of the jungle, a variety of trekking trails catering to all skill levels, plus the 5-star services of some upscale resorts located amongst the mountain range, definitely, Ba Vi National Park is always a brilliant option for
Hanoi Day Tour
, offering a chance to capture the quintessence of one of Vietnam's most important conservation areas.
Wildlife and Biodiversity Conservation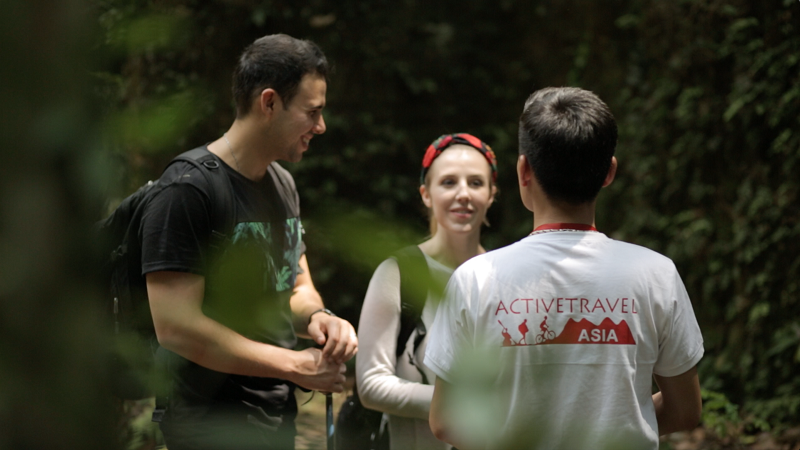 Make sure you discover Ba Vi jungle with a local guide as he enables to introduce you detailedly the origin of every single fauna and flora species.

Ba Vi National Park's wildlife and biodiversity are truly extraordinary. It is home to 1,209 plants, 503 of which are precious medicinal herbs. Some rare and valuable plants found in the jungle include Calocedrus Macrolepis and Podocarpus Neriifolius, etc. Also, the fauna of Ba Vi National Park contains 66 species, mostly small or medium ones, such as Chrotogale Owstoni, Arctictis Binturong, Felis Temminckii, Capricornis Sumatraensis and Lophura Nycthemera, etc.
Especially, 552 species of insects were found in the national park, 7 of which were listed in Vietnam's Red Book including Mantis Religiosa, Lethocerus Indicus, Attacuc Atlas, Actias Selene, Lamproptera Curius, Troides Helena and Graphium Antiphates.
Make sure you discover the jungle with a local guide as he enables to introduce you detailedly the origin of every single species above.
Various trekking & hiking trails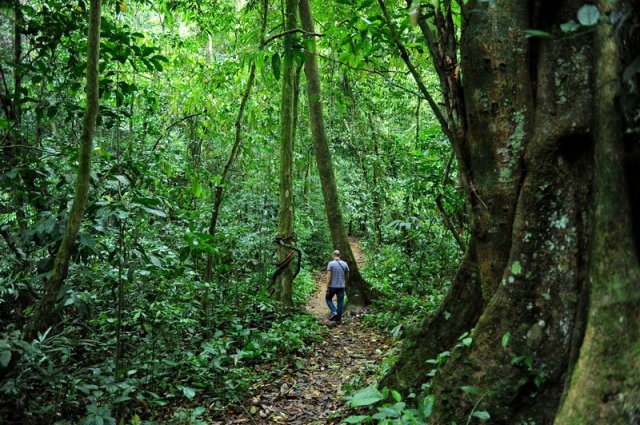 Trekking in Ba Vi National Park.

Comparing to Vietnam's Northwest and Southeast mountain slopes, Ba Vi Mountain Range is much more extensively steep. The average slope of the area is 250, from an altitude of 400m above sea level, the average slope is 350 attaching with many exposed stone walls. As of that, moving in the Ba Vi National Park is quite dangerous and completely not favorable. With an unpredictable topographic, to trek in this mountain range, you'd better accompanied by a professional guide.
Lots of adventure seekers are into trekking in Ba Vi National Park. Before your trip, we highly recommend you get a good idea to assess your level of fitness as well as arrange a logical itinerary to conquer the summits in Ba Vi Mountain Range. There are 3 peaks in Ba Vi National Park, comprising of Ngoc Hoa Peak at 1,131m above sea level, Tan Vien Peak at 1,226m and King Peak at 1,296m, the highest point in the jungle. You should research Ba Vi's topographic in advance as each peak is located at different directions. Usually, for
Hanoi day trip
, travelers prefer combining 2 out of 3 peaks above.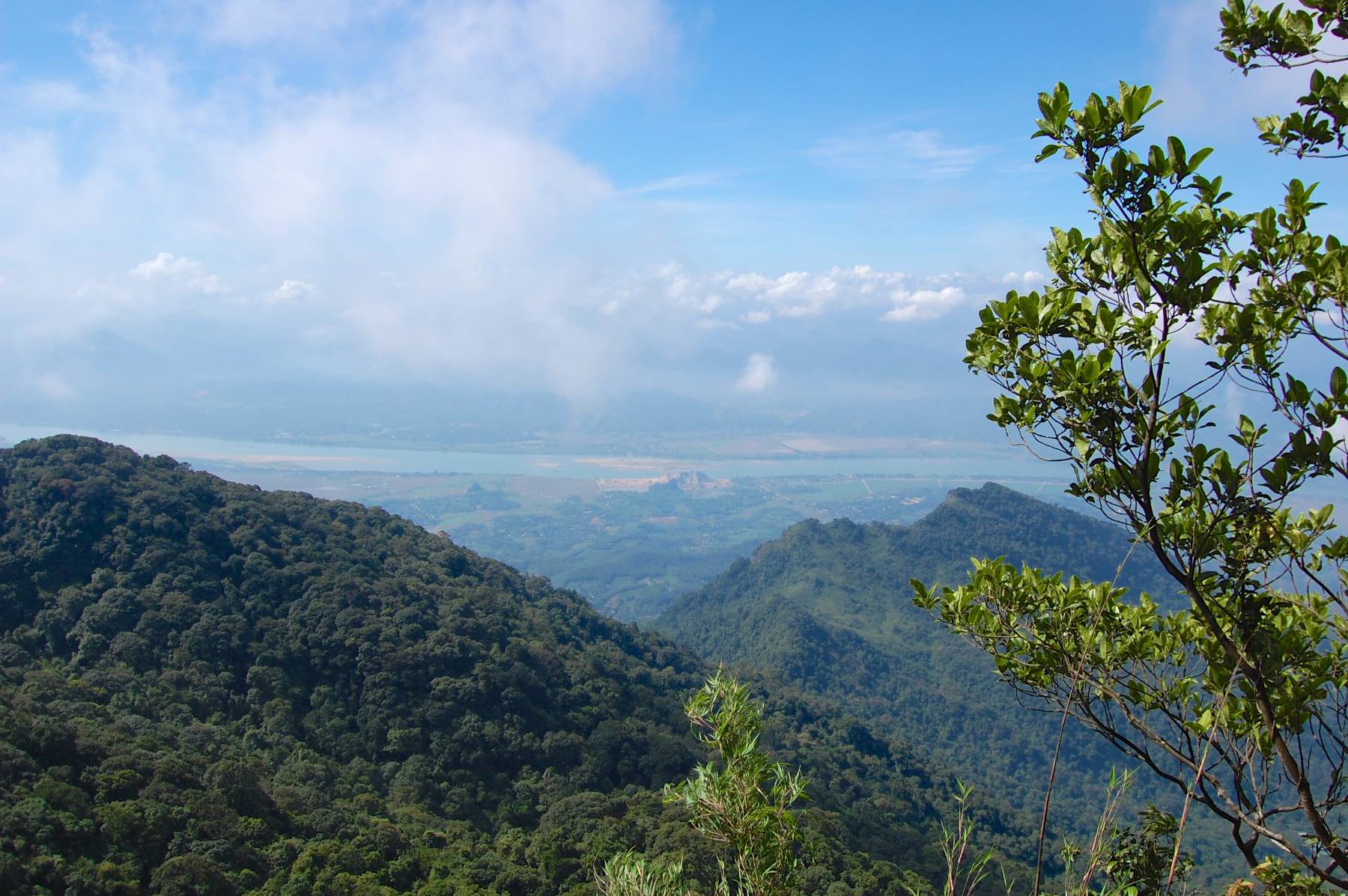 Stunning panoramic view of Ba Vi National Park from King Peak at 1,296m above sea level.

The reward for this strenuous climb is the chance to capture the gorgeous panorama of Ba Vi Mountain Range. The scenery will be incredibly magnificent and truly worth your effort!
Historical Ruins & Sacred Temples
Ba Vi used to be an upscale resort during the French colonization in Indochina. Due to a pleasant climate year-round as well as convenient way from Hanoi to Ba Vi, from 1932 – 1944, the French constructed many projects there such as the summer camp, the church and military zone.
Especially, at an altitude of 1,000 – 1,100m above sea level, there is a system of secret French Political prison built solidly to confine Vietnamese communists against colonialism. With a total of 2,500m2, it can retain up to 200 prisoners. Inside the prison, there are still many imprints of shackles and large stone mills with a diameter of nearly 4m used to torture the prisoners.
Besides an array of French historical ruins, Ba Vi Mountain range is also considered as the most sacred mountain in Vietnam with the Temple of President Ho Chi Minh (a national hero) and the Upper Temple worshipping the God of Ba Vi Mountain Range, one of The Four Immortals in traditional Vietnamese mythology.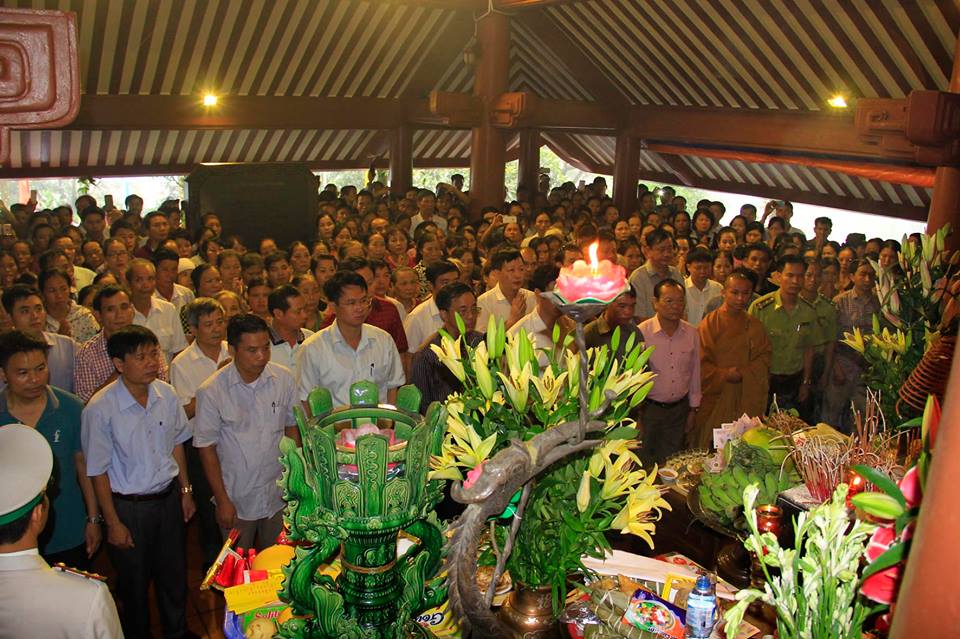 People all around Vietnam gather at Temple of President Ho Chi Minh to commemorate a national hero.

To reach the Temple of President Ho Chi Minh at King Peak, from the foot of Mount Ba Vi, you have to pass 12km of a winding road then continue to climb more than 1,320 stone steps. Annually, on 21st July of Lunar New Year, Vietnamese leaders from ministries, departments, Hanoi capital along with people all around the country will gather here to offer incense to commemorate President Ho Chi Minh.
Responsible Travel
Being a responsible eco tour operator is at the heart of what ACTIVETRAVEL ASIA is all about. From the start, we have been committed to offering low-impact tours that benefit traveler and host alike. We work with local communities, businesses and individuals to develop sustainable tourism opportunities that help local economies while minimizing negative environmental and cultural impacts.