Top 7 Most Gorgeous Homestays in Mai Chau
Mai Chau is a beautiful valley located in northwestern Vietnam. It attracts visitors by the dreaming beauty with fresh and cool mountain air, especially diverse culture and unique culinary background. To discover all the beauty of this place, instead of a luxury hotel with full amenities, we recommend you to stay in a simple house in the local villages. There is a range of
Mai Chau Homestay
but we will give a few prominent names for you to choose what is best suited.
Eco Homestay
Situated in Lac Village - the fascinating sight on the tourist map of Mai Chau, staying at Eco
Homestay in Mai Chau
is very convenient for travelers to discover and experience the culture and daily life of the Thai people - an ethnic group in this mountainous area. From this homestay, just look out, you will see the majestic mountains and green spaces of nature. This place is suitable for those who want to get away from the noise of the city, return to the simple life in the peaceful highland.
This homestay in Mai Chau offers free wifi, a restaurant, a buffet each morning, a children's playground and 24-hour front desk. All units have a private bathroom, a microwave, a kitchen with an oven and a terrace with lake views. A toaster and coffee machine are also available.
Hoa Ban Homestay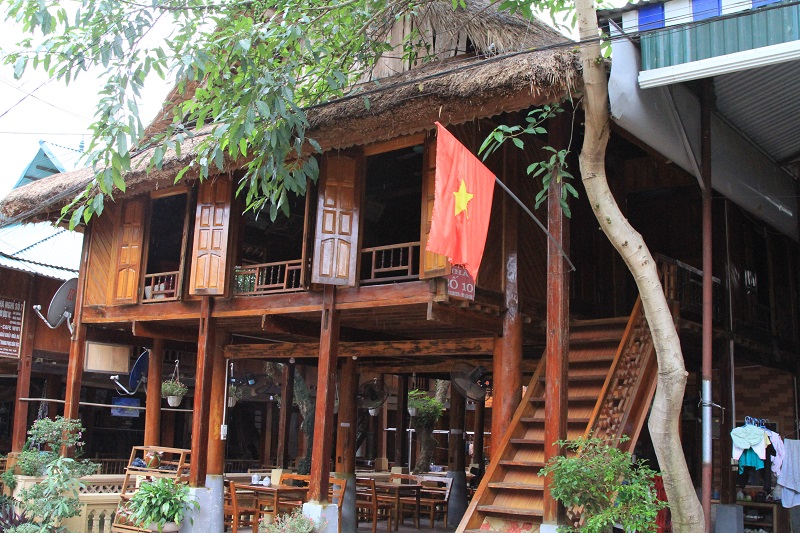 As one of the most popular destinations for visitors in recent years, Hoa Ban homestay is built according to the stilt house architecture of the Thai people. With the main material is wood, when you come to Hoa Ban homestay, you will feel like living in a traditional space between Hoa Binh mountain. Not only that, this house is fully equipped, has the modern and clean bathroom and free wifi.

What's more amazing and fun to experience is the tranquility and quietness of the place, the view of the real village, the vast rice fields or the mountains are covered with foggy smoke in the early morning. Not only that, come here, you also enjoy the regional cuisine or participate in the show with traditional songs, dances ... All will leave for your trip many unforgettable impression
Thuong Mai Homestay - Stilt house No 6
This is a lovely
homestay of Mai Chau
, located in Lac Village with spacious stilt houses, that brings interesting experiences for travelers. The rooms are suitable for groups and family resorts, equipped with wifi, blankets and full personal amenities. However, there is no private bathroom. You will use the shared bathroom at the Thuong Mai Homestay. It can offer private rooms or dormitories. Room rates vary according to the time and number of people, you should contact directly to receive detailed pricing information.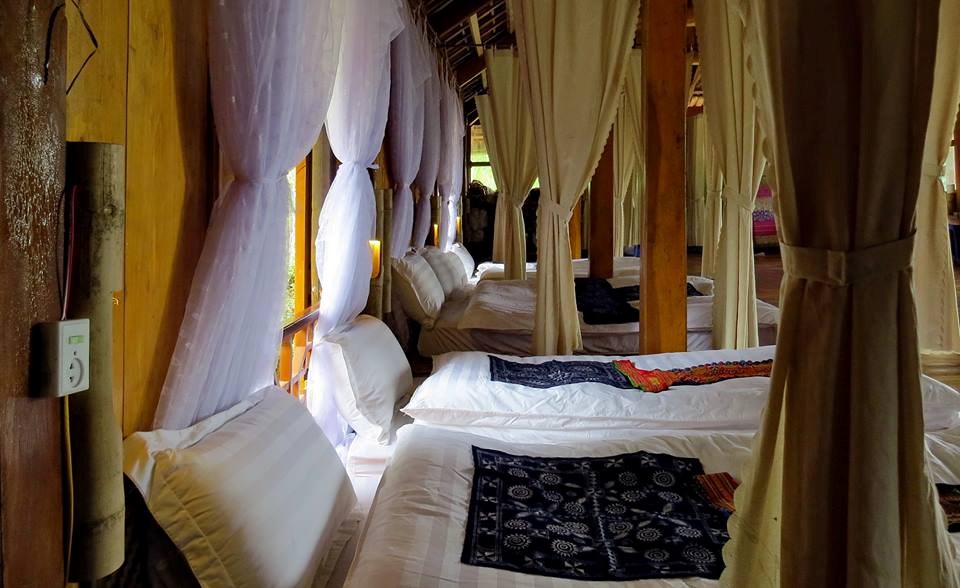 Collective bedroom in a Mai Chau Homestay

An on-site restaurant is available here. It serves meals at your request. In addition, there is a souvenir shop and bicycle rental service, from here, you can easily walk or bike to the tourist attractions in Mai Chau.
Little Mai Chau Homestay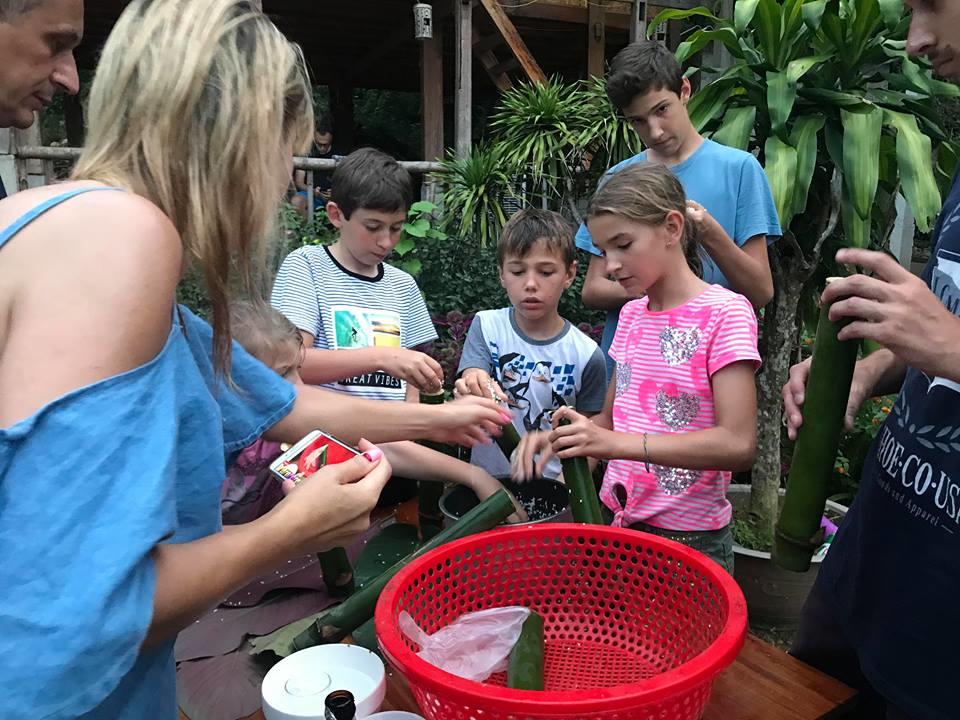 Little
Mai Chau Homestay
is a place worth to stay when traveling in Mai Chau. It is both friendly to nature and has all the amenities of a hotel, with an on-site garden and dining area, free Wi-Fi and private bathrooms as well as a playground for children. Here, you can enjoy the fresh air of the mountains. Some units include a terrace or balcony. A buffet breakfast is available each morning at the property, it's so easy to admire the majestic scenery outside.
You can also request typical dishes of Thai ethnicity such as Mai Chau sticky rice, Mai Chau rice, Mai Ha wine, Grilled broiled fish, etc at reasonable prices. In the evening, you can take a stroll around and enjoy the local art performances.
Mountain View Homestay
Located in Buoc Village - a peaceful village still retains the pristine features of Mai Chau, Mountain View Homestay is backed by mountains with a "view" overlooking the rice paddies and the romantic river. Mountain View Homestay is a community guest house designed as a Thai-style home, with bedrooms separated by large blinds. The toilets have modern interiors combined with natural materials like bamboo, clinging to the rocky cliffs are very unique.
In Moutain View Homestay, you can go shopping yourself, explore local cuisine by cooking the food of the people under the guidance of the landlord. If you love outdoor activities, you should not miss the bamboo rafting to see the scenery along the river. You will understand more about life and people here.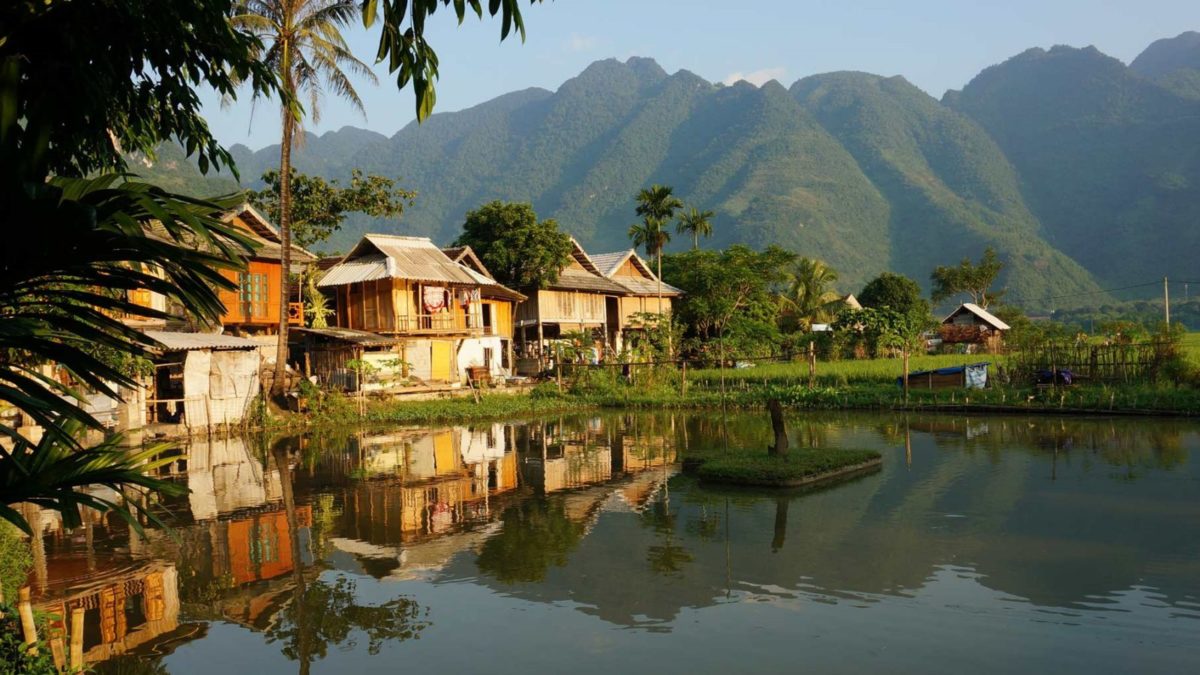 Mai Chau Family Homestay
Mai Chau Family Homestay offers friendly accommodation in Mai Chau Town, with free Wi-Fi, panoramic mountain views, and a restaurant serving your own needs. Rooms at this homestay are equipped with a TV, some have extra rooms with tea and coffee making facilities.
However, similar to many other
homestays in Mai Chau
, this homestay also uses shared bathrooms instead of private bathrooms in each room. If you are traveling with a group, you can contact the entire homestay for the most enjoyable experience. In the evening, there is a fire, an outdoor bbq party, a music performance. It offers free bicycle rental and car rental if you need.
Homestay Mai Hich
Homestay Mai Hich is a Thai stilt house located in Mai Hich village, about 10 km from Mai Chau district center. In front of the house, there is a small murmuring stream and the windmill slowly rotating. Standing far away, you can see the view of vasts rice terraces. Here, the bedroom is elegantly decorated with brocade and the furniture is decorated with the identity of the Thai people.
Not only provide sleeping places, visitors to homestay Mai Hich is also introduced cultural cuisine, scenery, and local industry. Guests are served a meal with Thai specialties and a rich buffet breakfast. In addition, visitors can participate in activities such as discovery village by bike, learn to weave cloth, learn cooking.
Here are some suggestions for
homestay in Mai Chau
which are highly rated by tourists. Hopefully you will find the right place to stay and have a fun trip in Northwestern Vietnam.
Responsible Travel
Being a responsible eco tour operator is at the heart of what ACTIVETRAVEL ASIA is all about. From the start, we have been committed to offering low-impact tours that benefit traveler and host alike. We work with local communities, businesses and individuals to develop sustainable tourism opportunities that help local economies while minimizing negative environmental and cultural impacts.