TOP 4 MUST-VISITED ATTRACTIONS ON CAT BA ISLAND, VIETNAM
The wild terrain of Cat Ba Island lends itself to adventure sports, and many travelers come here for rock climbing, hiking, kayaking and mountain biking, as well as cruising around Halong Bay or the nearer Lan Ha Bay.
Cat Ba Overview
Cat Ba is an archipelago of Cat Hai district, located about 30km from the center of Hai Phong city. It includes 367 big and small islands in which Cat Ba Island is the largest and the most beautiful island. It has always been called the pearl island of North Vietnam.
Cat Ba Island, the largest member of an archipelago sitting on the west of Halong Bay, boasts a settlement of Cat Ba town, a buzzing tourist centre that was once a fishing village. It has the cool climate and is largely unspoilt as well as mostly inaccessible. In 1986 almost half the island and its adjacent waters were declared a national park in an effort to protect its diverse ecosystems. Its value was further recognized in 2004, when the Cat Ba Archipelago was approved as a UNESCO Biosphere Reverse.
Every year, Cat Ba attracts millions of both domestic and international tourists. The time from May to September is the most ideal to visit Cat Ba Island.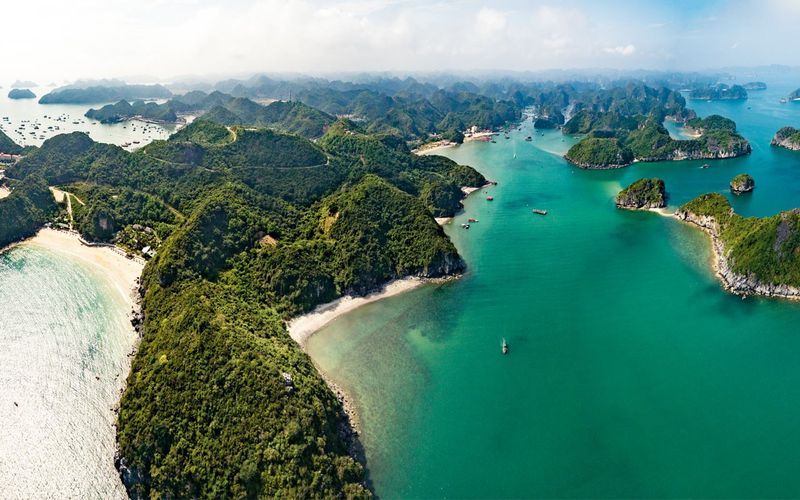 Cat Ba is called ''the Pearl Island'' of Vietnam

The wild terrain of Cat Ba Island lends itself to adventure sports, and many travelers come here for rock climbing, hiking, kayaking and mountain biking, as well as cruising around Halong Bay or the nearer Lan Ha Bay.
Must-visited destinations in Cat Ba
Cat Co Beach
In Cat Ba Island, there are hundreds of small and large beaches. Among them, Cat Co 1, Cat Co 2 and Cat Co 3 are the 3 most famous beaches, located just only a few hundred meters from Cat Ba town. These beaches are not too wide but surrounded by green mountains, calm waves, clear water and less wind. Cat Co 1, the middle bay, is the most popular with locals and there is a cliffside path links it with Cat Co 3, which makes a very pleasant walk. Cat Co 2 is quieter and cleaner.
Around the beaches, there is a myriad of villas and resorts. For travelers who don't keen to stay in the town, staying near the beach is the great choice for relaxing and enjoying the beauty of the sea at the time of sunrise and also the sunset.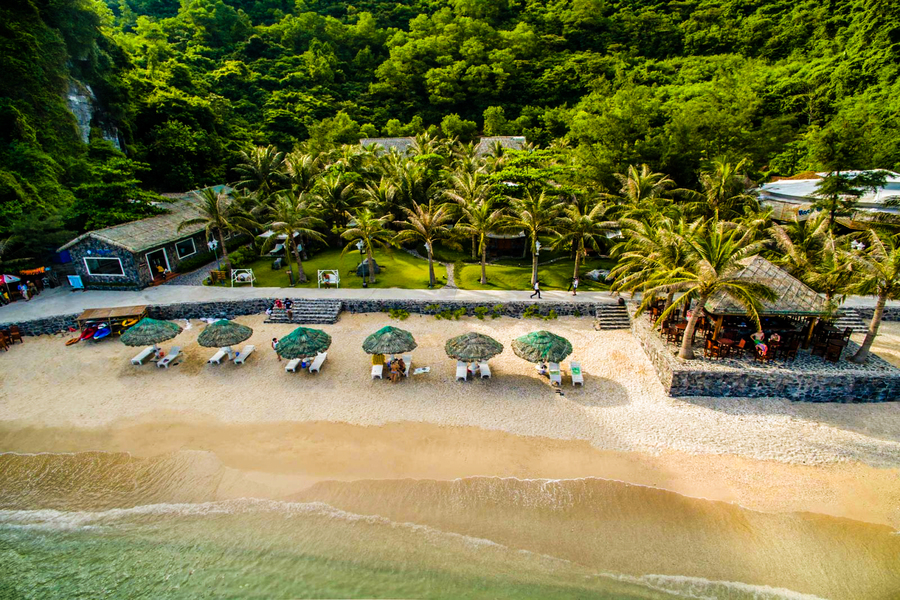 Cat Co Beach
Lan Ha Bay
Lan Ha Bay is a miniature version of neighbouring Halong Bay but receives fewer visitors. Located in the east of Cat Ba Island and in the south of Halong Bay, Lan Ha Bay is a paradise to go swimming, go kayaking, rock climbing or staying overnight in a bungalow. Some famous places for kayaking here is Cai Beo floating village, Van Boi center area in the middle of the bay, Ba Trai Dao area or Monkey Island area, etc.
The Bay is home to about 400 islets and a handful of limestone caves covered by the green of the rich vegetation and mounts with different forms depending on traveles' imagination like Hon Guoc (Wooden Shoe Islet), Hon Doi (Bat islet), etc. Also, Lan Ha Bay possesses 139 small sandy beaches nestled between two mountain blocks. Among them, the area with calm water such as Van Boi or Van Ha Beach, Sen Islet and Cu Island, etc are where tourists can dive and watch the colorful coral reefs. Tourists usually come here for beach sports or just simply have a picnic lunch on a beach.

Cat Ba National Park
Cat Ba National Park, established in 1986, is mostly inhabited by a subspecies of the critically endangered plants and animals. This place is suitable for people who love nature and trekking. Cat Ba National Park is the largest biosphere reserve in Vietnam as well as the world. With a total area of 15,200 ha, Cat Ba National Park possesses an ideal natural environment for the development of many kinds of plants that have been listed in the Red book such as white-headed langurs, red baboons, crows and many rare plants such as ''Phuc Linh'', ''Lat hoa'', ''Sen mat'', etc. In addition, visitors can see countless limestone karsts, caves, waterfalls and streams. Especially, Cat Ba National Park attracts tourists by the values of human history. The archaeological sites found that humans may have lived in this area between 6000 and 7000 years ago.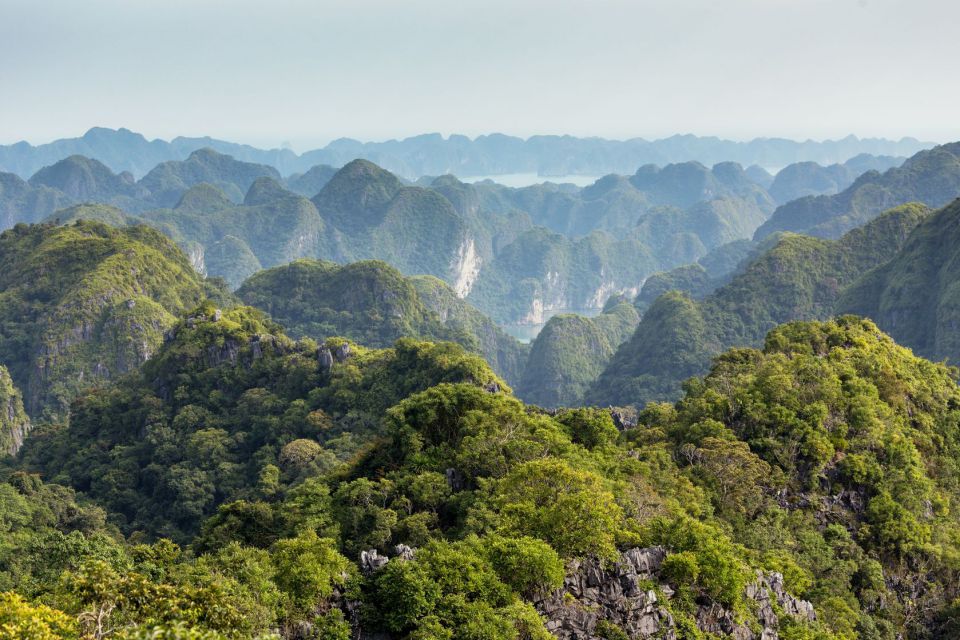 Cat Ba National Park, the best place for trekking
The short trek (3 hours): There are two main trails through the park taking you to a viewpoint at the top of Ngu Lam Peak. The paths are easy enough to follow, but it's a steep climb and extremely slippery in wet weather.
The long trek (6 hours) is for the ones who have time and energy and it is a rewarding experience. It involves a strenuous 18km hike via Frog Lake (Ao Ech), over a steep ridge for a stunning view over countless karst towers, then drop down to Viet Hai village where groups usually stop for lunch. From there it's about an hour walk through lush scenery to the jetty, and then it's back to Cat Ba by boat through Lan Ha Bay with a stop for beach activities such as swimming, snorkelling or kayaking.

Cai Beo Fishing Village
Cai Beo fishing village, one of Vietnam's largest floating villages with more than 300 households, is just about 2km from Cat Ba town and 2km from Monkey island resort. Once getting there, you cannot forget the peace, the humanity, and simplicity of the people and scenery here.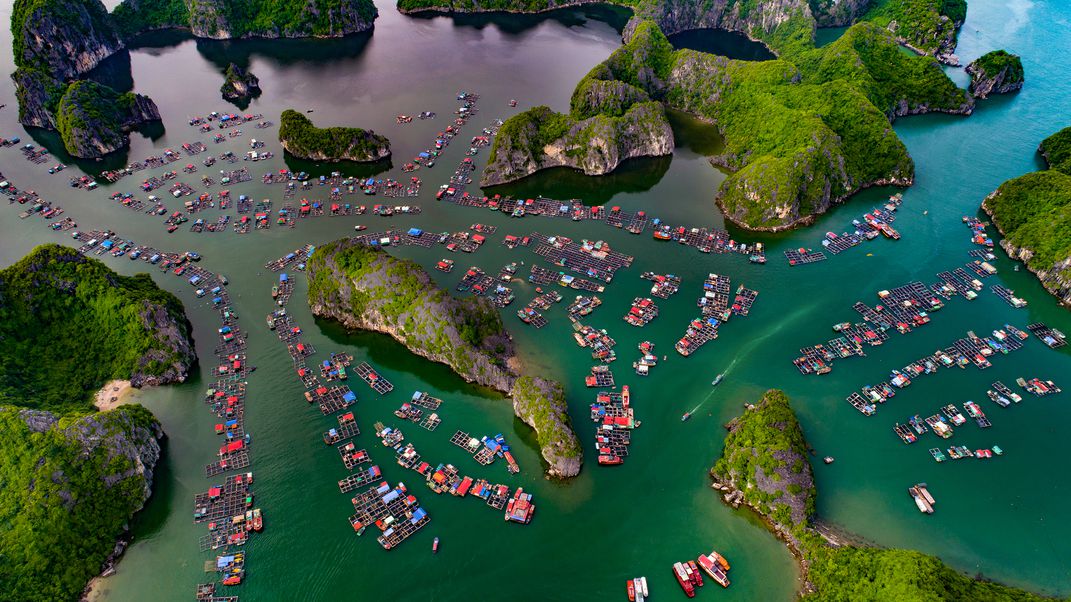 Cai Beo fishing village, one of Vietnam's largest floating villages with more than 300 households
People living here depend on aquaculture and fishing. They have found many artifacts and relics in Cai Beo made from granite and ceramic twisted rope crude stamping, fish bones, shells and sea oyster shell size, etc. As of that, it is believed as the residence of the ancient fishermen who have lived there for more than 7,000 years. When the weather is calm, the locals anchor the boat, drop net to catch fish and shrimp. They love a peaceful, rustic and simple life. Visiting Cai Beo Village, tourists can wander to discover the daily activities of the locals, try the fishing process and enjoy some delicious dishes made from fresh fish, shrimp, squid in floating restaurants, etc.

As one of four ecological zones in Vietnam added to UNESCO's World Network of Biosphere Reserves, Cat Ba Island is really an attractive destination for travelers and adventure seekers. A Cat Ba trip will help you forget the hard work of daily life, immerse yourself in nature and challenge yourself with various
interesting Vietnam adventures.
Responsible Travel
Being a responsible eco tour operator is at the heart of what ACTIVETRAVEL ASIA is all about. From the start, we have been committed to offering low-impact tours that benefit traveler and host alike. We work with local communities, businesses and individuals to develop sustainable tourism opportunities that help local economies while minimizing negative environmental and cultural impacts.