Top 4 Must-Visit Places for Sapa Trekking Tours
Being famous as the tropical heaven in the North of Vietnam, Sapa is one of the most attractive destinations for those who love exploring. When you visit Sapa, to understand the beauty of this mountainous area, do not choose a luxury travel tour in modern hotels.
Sapa trekking tours
are the better choice for you. Here are 4 popular places for you to go trekking and discover Sapa.
1.Fansipan Mountain
Fansipan mountain is located in the Lao Cai Province of the Northwest region of Vietnam, 9 km southwest of Sa Pa Township in the Hoang Lien Son mountain range.
This mountain is the highest one in Vietnam and Indochina too, at 3,143 meters (10,312 ft). That's why it is dubbed "the Roof of Indochina". Here, people found about 2,024 floral varieties and 327 faunal species. This is an ideal place for
Sapa trekking tours
for the truly adventurous travelers.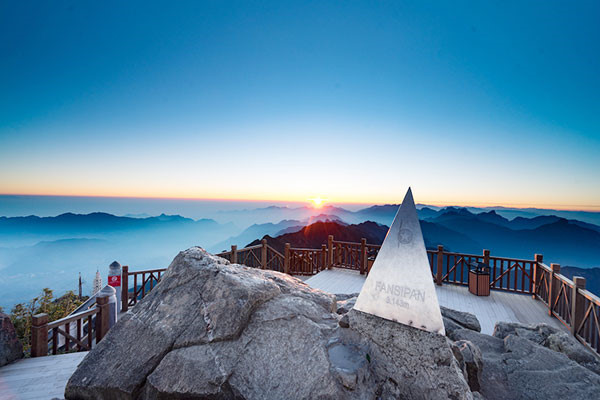 Fansipan Peak - destination for those who love adventure
The trip will take you through the golden terraced fields, the misty bamboo forests, the winding roads and feel like the middle of the cloudy garden. Choosing Fansipan Sapa trekking will not make you regret as you are immersed in diverse hill tribe members and experience the majestic mountains.
You'll have an interesting trekking with panoramic views. In addition, Fansipan doesn't require any technical skill (no ropes or special equipment, just need the sturdy hiking boots!), but it still offers a challenge to those who want one, especially on the more difficult routes.
You have 3 different route options to trekking depending on your skill level and how much time you have. It is better to go with a guide who will show you where to go, what to wear, some carry supplies you need and other things to know… Most hikes can take 3-4 days, so be sure that you prepared for camping. The entire experience will take you on an adventure that you won't want to miss.
2. Ham Rong Mountain Peak
Located adjacent to the town, Ham Rong Ham Rong Mount Peak is the mainstream place for almost all
trekking Sapa tours
. Being shaped like a dragon's head dimly looming in the thin veil of the early morning, Ham Rong (Dragon Jaw) Mountain is a fine combination of the man-made and natural landscape.
From the center of the town, you head up to the North and easily catch the sight of Ham Rong mountain. Ham Rong is a place of many kinds of flowers and orchard gardens. Following a hiking stone path, visitors can see the wild peach forest and the orchid gardens, which has more than 6000 orchid plants. Moreover, there are a lot of indigenous and exotic flowers grown along the paths like hydrangea, geraniums, cherry blossom, Lily of the Nile, ox-eyed daisy... Some mountain fruits like pear, plum or peach can also be found here. You will feel like a lost in a garden of heaven!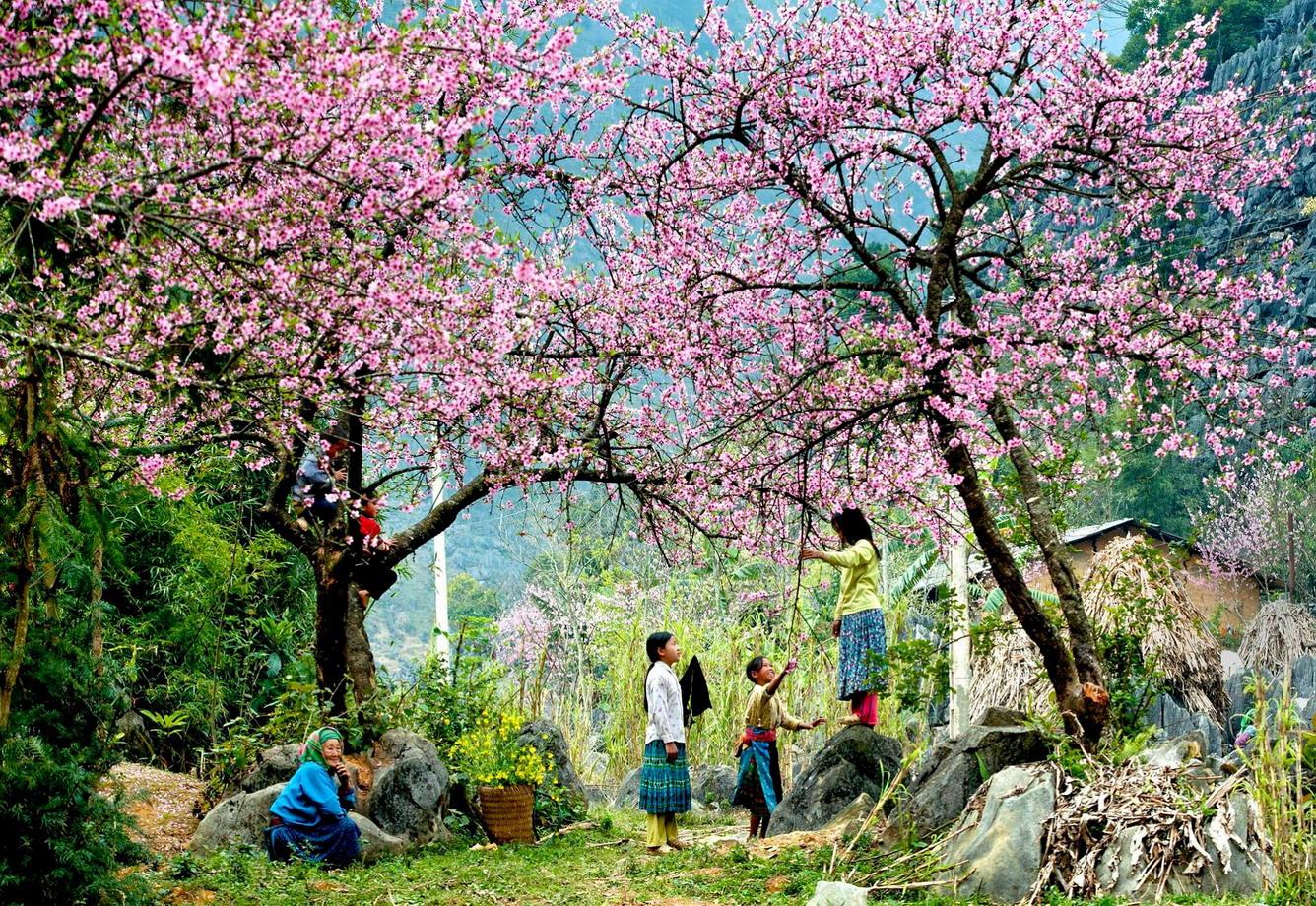 Ham Rong flower garden - heaven in Sapa trekking tours

An activity cannot be missed when coming to Sapa, that is to conquer San May (Cloud Yard). The peak of Ham Rong Mountain is at the altitude of 1800m so that from here, you can enjoy the imposing panorama of Sapa town. In sunny days, visitors can even see the peak of Fansipan under the clear sky with white cloud floating around. Along the way to Cloud Yard, you may drop by Heaven Gate 1, Heaven Gate 2 for resting and photo taking. From these places, tourists can see a great view of the French villas and extensive terraced fields below.

The trekking in Sapa route is quite easy to go so it is suitable for everyone. After a long journey, when you reach the last point on Ham Rong mountain, you can see the panoramic view of Sapa. That will be a nice memory. You should also visit Ham Rong Mount Peak in spring to see all flowers in the mountain blossom, admire their beauty and perfume.
3. Muong Hoa Valley
Muong Hoa Valley is one of the most favorite tourist destinations in Sapa trekking tours. It's also the largest farmland to grow rice in Sapa. It is about 14 kilometers from the town center.

Visiting Muong Hoa, you will enjoy an easy walk downhill and along Muong Hoa River, through the beautiful terraced fields, passing some hamlets of the H'Mong people in Lao Chai, Y Linh Ho,... and watching locals at work. You can overnight in a homestay of Ta Van village - the unique village where the Giay ethnic minority live. It will be an excellent and unforgettable experience.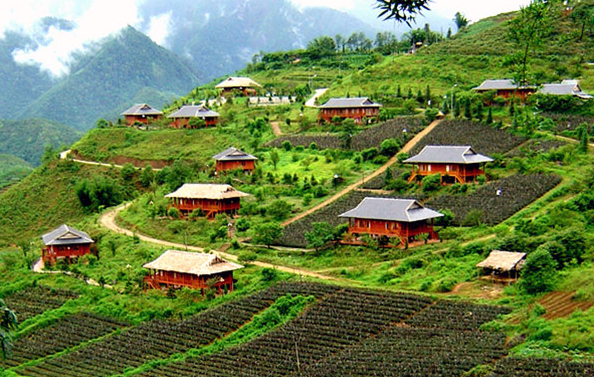 The Sapa's villages in Muong Hoa Valley

Here, people found many similarities with the Dong Son culture, which has date from 2300 to 3000 years. It is believed that the mysterious graphics of Sapa's ancient stone can be attributed to many ethnic groups living in different ages. Though these, visitors can understand more about the unique and specific culture of Sapa.

On the main road leading to Muong Hoa valley, this is an opportunity not to miss to take souvenir photos and see how majestic the scenery is. This valley has the most beautiful terraced fields of Sapa. You can also pay a visit to small and isolated hamlets and villages to see the Zay, Red Zao and Black H'mong people at home or at work.

Each year, in Ta Van commune, people open the festival to welcome a new year for bumper harvest on Dragon's first lunar month. The locals and a large number of tourists come here, which makes Muong Hoa valley becomes more vibrant and colorful.
4. Cat Cat Ethnic Village
Cat Cat village is another must-come destination in your
trekking tours in Sapa.
This is an old village of ethnic groups nestled in a nice valley that's about three kilometers from Sapa Center. The village attracts tourists from all over the world for its unique cultural identity and special customs, which are no longer present in other villages. The village is within the easy walking distance from any hotel or homestay in downtown Sapa.
Cat Cat Cultural Village began to appear in the 19th century. At first, the village was a collection of some ethnic families living in the mountainous north of Vietnam, especially H'Mong people. Today, it has become an attractive feature of Sapa tourism.
Come to Cat Cat village, visitors will be impressed by the peacefully picturesque sceneries. People can experience the everyday scenes of local people: the women sitting by the loom, around are the colorful pieces of brocade, children play with pets and even livestock.
From the plain brocade, the women here can carefully dye them with special leaves and then, beautiful patterns of flower and animal can be embroidered on them. Moreover, making sophisticated gold and silver jewelry is something that people here can do very well.
A daily activity in Cat Cat Village, Sapa
The original architect of H'Mong people is interesting as well. Their house typically contains three rooms with three doors and po-mu wood roof, while the walls' material is sawn timber. There are other indispensable parts of the house such as the altar, kitchen, places for keeping food and sleeping, etc.
Visitors also have the opportunity to experience the daily life of local people, as well as participate in some traditional activities with people such as weaving. Do not forget to buy some souvenirs and traditional crafts made from the hands of the locals. In addition, this place also gives you the opportunity to enjoy some feature dish of Sapa.
In addition, the road leading to Cat Cat Village is an easy route for trekking Sapa. It just takes about 20 - 30 minutes walking to here from the town center. the hike through mountains will let you see the wonderful picture of the waterfall, rice paddies, or even water buffaloes grazing leisurely.
A trekking Sapa tour will definitely be an unforgettable experience for any explorers. Do not hesitate any more, let's enjoy your hiking trip to discover the wonderful landscape, the lifestyle of ethnic people as well as the lively atmosphere in Sapa!
Responsible Travel
Being a responsible eco tour operator is at the heart of what ACTIVETRAVEL ASIA is all about. From the start, we have been committed to offering low-impact tours that benefit traveler and host alike. We work with local communities, businesses and individuals to develop sustainable tourism opportunities that help local economies while minimizing negative environmental and cultural impacts.