Suggested itineraries for your next Bac Ha trekking tours
Bac Ha is one of the most popular trekking spots in Northern Vietnam thanks to its pristine natural landscapes. If you're planning your next
Bac Ha trekking tours
, don't miss these pieces of useful information below.
WHERE IS BAC HA?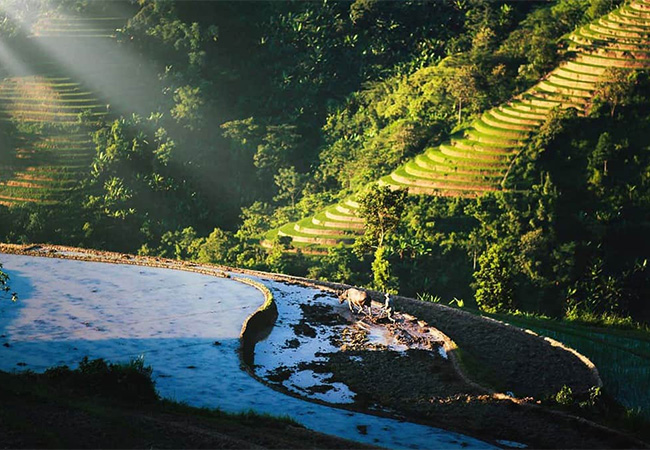 Terraced fields in Bac Ha
Bac Ha is a highland town located at an altitude of 1,000 - 1,500 m above sea level, belonging to Bac Ha district,
Lao Cai
province, about 60 km to the southeast of Lao Cai city. The climate here is mild all year-round, with an average annual temperature of about 25ºC, so it has also become an ideal tourist destination for many domestic and foreign tourists.
The name Bắc Hà comes from the Tày phrase "Pạc ha" which means "hundred bundle of Gianh (chopped bamboo)". During the French colonial period, the French recorded the sound of Po ha in Latin letters as "Pakha". The Vietnamese read "Pakha" as "Bac Ha" and since then Bac Ha has became the official name of this land.
In addition, Bac Ha is also known with another name, "white plateau", because in the years 1985 - 1986 and earlier, in mountainous areas of Vietnam such as Lang Son, Lao Cai, Yen Bai, Lai Chau. In Nghe An, people cultivate a lot of addictive plants such as poppies and marijuana with an estimated area of 19,055 ha (during the years of 91-92, the cultivated area in Lao Cai was 801 ha).
Bac Ha white plateau attracts tourists not only by the beautiful scenery, but also attracts visitors by the unique cultural features of the upland cultural markets such as Coc Ly market, Bac Ha market, the ethnic villages of Dao and Mong people, and famous culinary dishes such as green rice, 7-color sticky rice, Dày cakes, pork ribs, sour Phở, Thắng Cố...
Besides, Local people still play traditional sports such as horse racing and throwing a scared ball through the ring on special occasions.
SUGGESTED ITINERARIES FOR BAC HA TREKKING TOURS
1-DAY ITINERARY: Bac Ha - Lầu Thí Ngài - Thải Giàng Phố - Na Lo
Thải Giàng Phố
If you don't have much time, this itinerary is an ideal option for you. Although it takes you only around 5 or 6 hours to finish the trek, you can visit most of the special villages with this route.
If you are in Lao Cai, you have to take a bus in the morning to get to Bac Ha. You can have breakfast in Bac Ha town before packing your bag ready for the 1 day trekking trip.
Then, trek up hills to Lầu Thí Ngài and Thải Giàng Phố area, where you will have a viewpoint of beautiful valleys around the town. You can encounter some local people from H'mong, Tay, Nung or Dao ethnic minorities along the way. Just smile and say hello to them or wave your hands at them cuz they're very hospitable and easy-going.
You can stop at a local house to have lunch, have some rest and then come back to Bac Ha town in the early afternoon.
In the evening, you can take a bus to come back to Ha Noi from Lao Cai.
2-DAY ITINERARY:
If you can spend 2 days in Bac Ha, you might want to consider these 2 itineraries:
Option 1:

Day 1:Bac Ha - Phố village - Thải Giàng Phố - Na Lo
After getting to Bac Ha from Lao Cai, have breakfast and pack your stuff for the trekking trip.
Trek up hills to Lầu Thí Ngài - Thải Giàng Phố area and carve time to admire the terraced fields in the valleys below.
Stop at a local house for lunch.
Spend a night in a house of Tay people in Na Lo village.
Day 2: Na Lo - Na Hối - Bac Ha - Lao Cai - Ha Noi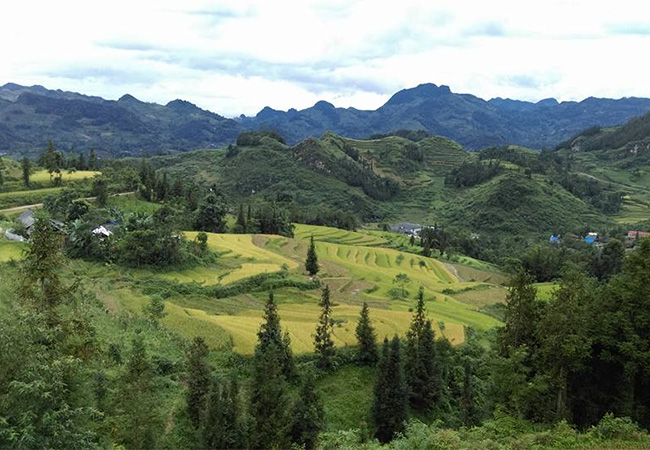 Na Lo


From Na Lo, you can rent a carthorse to transfer you from the house you stay in Na Lo to the point where you can start to trek to Ngải Thầu. After reaching Ngải Thầu, keep going down to Na Hối to see the stunning landscapes and explore the local life there.

You can have lunch on the top of the mountain.

In the afternoon, come back to Bac Ha. Get your stuff packed to get on to bus to Lao Cai and then go back to Ha Noi by bus/train from Lao Cai.
This route is quite easy for most of people. You will have to trek for approximately 5-6 hours/day, equivalent to 18-20 km per day.
Option 2:
Day 1: Bac Ha - Tả Van Chư
Tả Van Chư is an attractive destination, about 20 km to the Northwest of Bac Ha town. The village is also widely known as the "miniature Sapa" with cool climate and diverse ecosystems.
From Bac Ha, you'll trek 20 km to reach Tả Van Chư village on the first day. Along the way, you can take picture of beautiful landscapes and ethnic people in their colorful traditional costumes. You can have a picnic lunch under the shade.
Also, don't forget to book a homestay (which is usually a stilt-house) for the night in Tả Van Chư in advance. When you reach the homestay in the afternoon, you can have a short walk around the nearby H'mong ethnic village before coming back and having dinner with the local family.
Day 2: Tả Van Chư - Cán Cấu market
Cán Cấu Market
For the second day, you'll keep walking to reach Cán Cấu market. Cán Cấu market is a typical market of ethnic minorities (mainly Giay, Mong - Chinese) in the Northwest region of Vietnam. The market is usually held on Saturdays, Saturdays, holidays, and New Year holidays from early morning to past noon. Therefore, to visit the market, you should start your Bac Ha trekking tour on Friday or Saturday.
Cán Cấu market is about 10 km from Tả Van Chư. You'll walk down the mountain with stunning views to reach the market. If time permits, you can take a bus to get to another trekking point named Thải Giàng Phố (20 km from the market) and walking around the village before walking back to Bac Ha town.
4-DAY ITINERARY:
For those who want to linger and explore the pristine Bac Ha more, a 4-day itinerary might be an ideal.
The 4-day trip offers you a great chance to gain a better understanding about the local life of H'mong, Phu La and Tay people in Bac Ha. For each day, you might have to walk approximately 5-6 hours/day, equivalent to 17-19 km per day.
Day 1: Bac Ha - Tả Van Chư: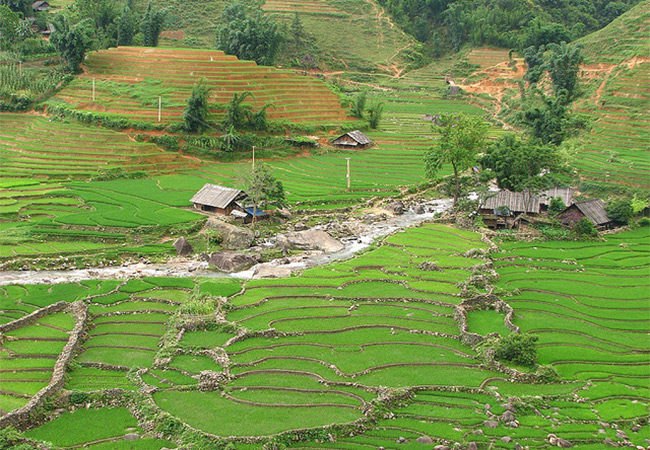 Tả Van Chư
Just like the itinerary above, after having breakfast in Bac Ha, you'll have to walk for about 20 km to reach Tả Van Chư village. You can have lunch somewhere on the way, maybe under a tree or near a stream.
Book a homestay in Tả Van Chư in advance. When you come there, you can carve some time to walk around a nearby H'mong village before having dinner with the local family in the homestay.
Day 2: Tả Van Chư - Lùng Phình
After having breakfast in the homestay, you'll trek down hills and soon find yourself in the middle of immense rice paddy fields. Walk about 13 km and you'll reach Lử Thẩn village. You can have lunch and have some rest here before trekking 11 km to Lùng Phình.
You can stay with local people in the village for the night.
Day 3: Lùng Phình - Na Lo
Have breakfast and heading to Na Lo via the mountain trails. Along the trail, you'll see some colorful dresses of the local H'mong people hanging outside on the clothesline. If you meet the local, don't hesitate to say hello cuz they're very friendly.
You'll have lunch on the top of the mountain. Have some rest if you wish and then walk downhill to Na Lo valley. Find a homestay of Tay people in the area to stay overnight.
Day 4: Na Lo - Na Hối - Nậm Mòn
From Na Lo, you'll walk to Ngải Thầu, another H'mong village. Here, you can have a better view of the terraced fields and green mountains. Have lunch before walking downhill to Na Hối village. You can spend some time to explore the village and then walk 5 km to get to Nậm Mòn. From Nậm Mòn, you'll have to trek 13 km to come back to Bac Ha town. Pack your stuff, take the local bus to Lao Cai for the night train to Hanoi.
However, If a 4-day trip isn't enough for you, you can extend your Bac Ha trekking tours to explore Bac Ha to the fullest:
Day 5: Nậm Mòn - Cốc Ly - Trung Đô
Walk 10 km from Nậm Mòn to reach Cốc Ly commune. On tuesday, the traditional market is held here and you'll have the chance to learn more about different ethnic people such as H'Mong, Tay, Tu Zi and Nung people in the market. Then go down Cháy river to take a boat trip and visit the Tien cave, where you can admire the scenery as in fairy tales. Finish your day in Trung Đô village and stay in a Tay house for the night.
Day 6: Trung Đô - Coc Cooc - Khởi Xá - Bảo Nhai
Leave Trung Đô in the morning and spend 2 hours trekking up the mountain to visit Coc Cooc village. Move to Khởi Xá and learn a little about Dao people. Trek downhill to Bảo Nhai, enjoy yourself here before taking the bus back to Lao Cai. You can have dinner in Lao Cai and then take the night train to return to Hanoi.
With all the suggested itineraries above, hope you can arrange a suitable Bac Ha trekking tour for you and your companions.
Responsible Travel
Being a responsible eco tour operator is at the heart of what ACTIVETRAVEL ASIA is all about. From the start, we have been committed to offering low-impact tours that benefit traveler and host alike. We work with local communities, businesses and individuals to develop sustainable tourism opportunities that help local economies while minimizing negative environmental and cultural impacts.