Preparation guide for Ha Giang trekking tour
Most people coming to Ha Giang choose to ride motorbikes to explore the stunning views of the mountainous province. If that traditional way of discover doesn't satisfy you, an intrepid traveller,
Ha Giang trekking tours
are a perfect for you. So you've made up your mind to include some trekking for your next trip to Ha Giang but don't know where to start? This preparation guide is for you.
An overview about Ha Giang:
Ha Giang is a mountainous province located in the Northwest Vietnam, also known as Vietnam's final frontier. Ha Giang was practically insulated from the rest of Vietnam until the famous "Happiness Road" was completed in 1967. From Hanoi, you have to travel for more than 300 km to reach the center of Ha Giang: Ha Giang city. In the far north of Ha Giang city, a long loop road cuts through the mountains, guiding tourists through some of the country's most rugged territory.
Coming to Ha Giang, you'll get the chance to challenge yourself with the most perilous stretches of roads you can't find anywhere else. Your bike hugs onto the side of a limestone cliff, laid out before you is a spectacular view of Northern Vietnam: peaks and gorges, infinite hills, stacked terraced fields, concentric circle of walking tracks and unpaved roads etched into the mountainside. You will definitely feel amazed and breathless. The stunning beauty of nature here makes you feel like you're the king of the world, gives you a strong sense of freedom.
After decades of isolation, Ha Giang is now one of the most desired places in North Vietnam for those who loves adventures. The province's tourism is growing fast with more local people providing tour services to visitors. That's why you can easily find various kinds of Ha Giang trekking tours available. These trekking tours can last from 3 to 10 days, depending on your arrangement.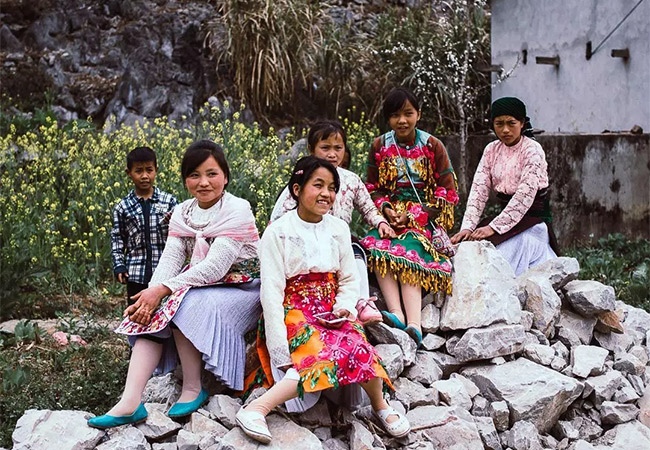 The ethnic minority children in Ha Giang
The preparation guide for you next Ha Giang trekking tours:
Some pre-trip training:
It might seem exciting to go trekking and admire the beautiful sceneries from close angles, you're going to be in for a bit of shock without at least some pre-trip training. Let's be real, trekking is fun, but it's hard work anyway. The more you train for your hike, the easier it'll be.
1. Start walking more:
The best way to prepare for a long walk? Just do some long walks! You can start small by walking with short distances and work up to the length you'll be trekking on your trip. Leave a day in between each walk to let your body recover. As your body gets fitter, try to do back-to-back sessions each day. This'll help build your stamina for you trekking trip, where you won't have the luxury of rest days.

And take the stairs every chance you get instead of the lift or escalator. Stair climbing is also a good one to train your calves and quads.
2. Walk properly:
Sure! you've been doing it since you were only one year old! But are you sure you're walking properly? Remember to hit the ground with your heel first, then roll onto your toe, which propels you onto the next step. Walk with your head up, eyes forward and shoulders level.
3.Try to walk in all types of weather:
The weather is usually good in Ha Giang trekking tours, but no one can assure that you'll get all the days of perfect weather on your trek. There might be some rain and it can get humid, so prepare yourself for these conditions.
4.Train with a backpack:
During the trekking tours, you won't be carrying your main pack but you will need to carry a small daypack in which you keep your essentials. Challenging yourself with a weighted bag during days of training is a good idea. It'll make the eventual trek feel just like a walk in the park!
Checklist of things to carry on your trek in Ha Giang:

A local woman in Ha Giang
If you are new to trekking, you're bound to make mistakes and forget some important things to carry on trekking trips. This is usually because your excitement overshadows the preparations for such adventure trips. Let's check out the most important items that you all must carry while going for a trekking trip:
1. Water bottle:
A water bottle is nothing but a very precious thing to have on any trekking trip. Sipping water from your bottle frequently will keep you hydrated. You should always bring a water bottle and don't forget to refill it whenever you get a chance from natural streams. It'll be best to use a sturdy water bottle that does not leak or break. You can help save the nature keeping plastic waste in check!
2. Good daypack or backpack:
A good daypack or backpack will help you keep your things well organized on a trek. You should invest in a good one which help you feel light and less sweaty on the back. It also must protect your gear and items from at least light rain and provide easy access as well as organization of your items.
3. Trekking shoes:
The quality, comfort and protection offered by a good pair of trekking shoes far outweighs any other trekking gear you may have. That's why you should invest your money in a comfortable, lightweight, sturdy, warm and waterproof pair of shoes.
4.Trek pants or trousers:
Make sure you own a comfortable, breathable, cargo styled and quick dry trek pants or trousers. Quick dry capabilities prove very satisfying when you must cross water streams. Also, a good number pockets on the pants help you keep other things like snacks while you trek.
5. Band Aids
You can have some minor injuries including burns, cuts or bruises during the trip, so bringing some band aids along with you will come in handy in these situations.
6. Cap or hat:
When trekking in open, you should always protect yourself from the direct exposure of skin to the sun. The intense sunlight can cause headache or sunburn, so don't forget to wear a cap or hat along the way.
7. Sunscreen:
Sunscreen protects you from UV rays and direct sunlight, especialy while trekking in mountainous places like Ha Giang, the intensity of sun rays are far more impacting than normal cities.
8. Hand sanitizer:
During the trip, your hands will keep coming in contact with unwanted spots. Hand sanitizers will help keep a check on germs and help reduce the probability of getting sick while on a multi-day trek.
Some useful notes for you:
- As the
Ha Giang trekking tours
last from 3 to 10 days (ideally 8-10 days to explore the province to the fullest), bring enough cash with you as ATMs are only available in town like Ha Giang, Tam Son and Dong Van.
- Ethnic markets: Don't miss out the traditional ethnic markets of Dong Van and Meo Vac if you have a Ha Giang trekking. There is also one in Yen Minh on wednesdays and sundays. When driving around, you will certainly stumble on some flea markets. Make a stop and see how ethnic people do their business.
- Road condition: An important thing you should keep in mind before having a trekking tour in Ha Giang is that the roads are winding and treacherous. Besides, some local people tend to drive carelessly, so you should drive slowly in order to handle unexpected situations.
- Weather: Have a look at the forecast before heading to Ha Giang. Heavy rains and fog are quite common in the winter and spring. In the summer, the weather is often hot during the daytime, which makes trekking more tiring.
To sum up, for beginners, a trekking trip might sound challenging but in fact, it's also exciting as you can gain a better understanding about Ha Giang's culture and beauty. Just follow the preparation guide above and you should be fine!
Responsible Travel
Being a responsible eco tour operator is at the heart of what ACTIVETRAVEL ASIA is all about. From the start, we have been committed to offering low-impact tours that benefit traveler and host alike. We work with local communities, businesses and individuals to develop sustainable tourism opportunities that help local economies while minimizing negative environmental and cultural impacts.