Kayaking in Halong bay – An exciting form of discover you should not miss
Tourists who come to Vietnam must have heard of Halong bay, which is one of the 7 unesco world nature heritage sites and a wonderful destination in Quang Ninh Province, Viet Nam. With the rapid growth of tourism in the recent years, there are more and more exciting activities for visitors to do here rather than just admiring the scene and sights. However, among other outdoor activities,
kayaking in Halong
is definitely the best way to explore the breathtaking beauty of the wonder.
AN OVERVIEW OF KAYAKING IN HALONG BAY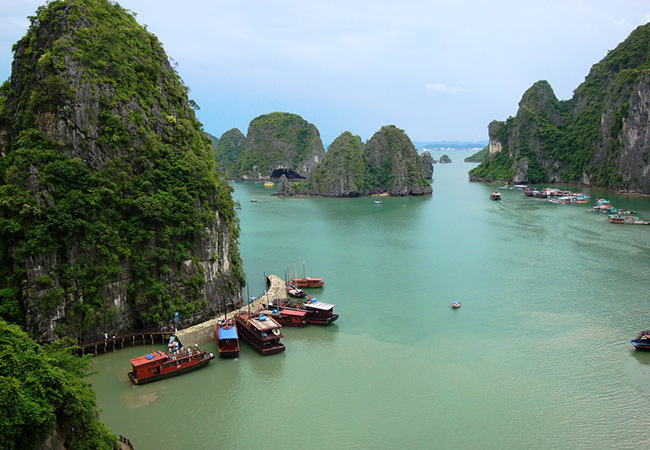 Halong Bay is one of the 7 world heritage sites of the world.
For the recent 20 years, the service of kayaking in Halong Bay has become popular among adventurous foreign visitors who are into extreme sports. Nowadays, there have been many more domestic visitors taking part in this exciting activity, especially young people. Compared to other means, kayaking is more affordable to the majority of tourists, more convenient and above all, more fun. It's an interesting form of discover the grandeur of halong nature as travelers can row to any caves and beaches that can't be accessed by boat. Inside the caves, you can hand stroke numerous stalactites in many bizarre shapes. More excitingly, when you enter some low caves, you even have to cling to the top of the cave and push the boat instead of rowing. However, it's quite dangerous for those who don't have good kayaking skills or even worse, don't know how to swim.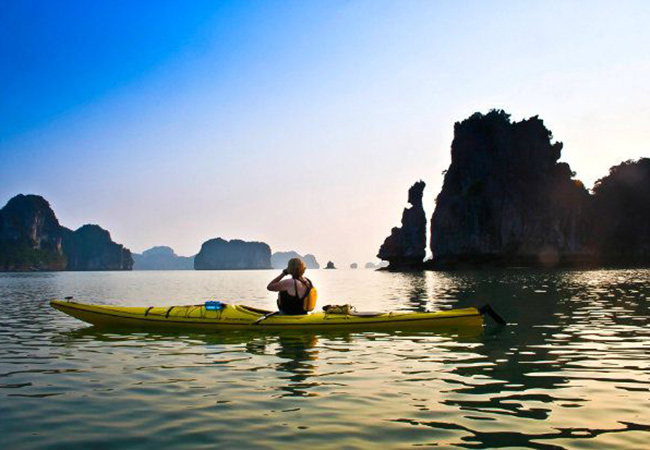 Exploring the magnificent beauty of Halong by kayak
Kayaking brings a completely different experience from cruise/boat. Sitting on a small kayak, paddling in the calm blue water, you can row yourself at the foot of rocks and great limestone mountains which were formed million years ago. The experience of contemplating beautiful coral reefs and hundred kinds of tiny fish under the crystal clear water while paddling your kayak would be the highlight of your trip. Also, from your kayak, you can watch birds on the cliffs, visit floating fishing villages, look to the blue sky while enjoying the feeling of mild wind on your face. What's more amazing?
WHEN IS THE BEST TIMES FOR KAYAKING IN HALONG BAY?
The weather in Halong bay is quite pleasant all year round so you can go kayaking here whenever you're feeling up to it. Every season owns different interesting features.
In spring, the weather is warm and dry and the water is calm, hence it's an ideal time for kayaking activity in the bay. However, this also means there will be likely more tourists coming here than usual and this will also result in the increase of the traveling costs.
In summer, the weather is scorching and humid in Halong bay. Summer is also a peak season in Vietnam in general and in Halong bay in particular, therefore the prices are usually at their highest. During this time, people tend to have a high demand of refreshing themselves in the stunning beauty of blue water, so be prepared as Halong bay will be incredibly crowded.
In autumn, it's cool and windy. There are often storms approaching the coastal provinces in northern Vietnam, including Quang Ninh (where Halong bay is located). Thus, there will be fewer travelers at this time of the year. Still, you can consider kayaking in Halong bay as traveling in off season has its own perks.
In winter, it can get freezing and continuously rainy in northern areas like Halong bay. Though this is not an ideal time for kayaking, you can still try to do kayaking if the weather is nice enough.
BEST SPOTS FOR YOUR KAYAKING TRIP IN HALONG BAY
Vung Vieng fishing village
So you've made up your mind to hire a suitable kayak, now you may wonder where to paddle to in Halong bay. Below is the list of the best spots for kayaking in halong bay:
Vung Vieng Fishing Village
Cua Van Fishing Village (You can experience a life of a fisherman in these fishing villages by trying to knit nets, feeding fish, cooking on the raft, etc.)
Luon Cave
Ho Dong Tien Area
Trinh Nu Cave
Cong Do Area
Tung Sau area
Co Cave area

Due to the itinerary of each cruise or full kayaking package, you will have the best spot for your experience.
SAFETY TIPS FOR YOUR KAYAKING TRIP IN HALONG BAY:
Kayaking is generally assumed to be very safe in these calm waters of Halong Bay but there are some useful tips you should know before kayaking in Halong bay by yourself.
STEP 1: Connect to your operators or local in order to check the weather condition. In the bad condition, you should make plan B or choose the safety region for your kayaking. Remember, your safety is first.
STEP 2: Get prepared well:
- Don't forget to bring these necessary things: Life vests, water, sun cream, dry bag, camera, insect repellent
- Wear the life vest and use the dry bag before kayaking.
- Wear suitable outfits like: T-shirt and short, waterproof shoes, hat, sunglasses.
- Listen to the instructions from the local guide carefully.
STEP 3: Now go kayaking:
- Follow your guide, don't forget to listen to the route, time, and rules
- Keep a suitable distance with other people, not too close nor too far so that you'll not collide their kayaks nor get lost.
-Do not come too close to caves and karsts/ Avoid low caves if you're inexperienced.
-No kayaking while being intoxicated.
In case the kayak capsizes, you might need to swim a bit and the tour guide will help you take the water out of your kayak by putting your kayak on his in the T-shape. After that, you can be on the kayak again.
BOOKING KAYAKING TOURS IN HALONG BAY
If you don't have much time, take a day tour from Hanoi that includes kayaking.
If time permits, give yourself more time to kayak at your leisure by booking a 3-day Halong Bay cruise where you can paddle out from the boat in different locations, such as Cat Ba Island, Titop island (climb to the summit of this rocky island and enjoy the panoramic view from above) and Lan Ha Bay.
Kayaking Tour we recommend:
Kayaking in Halong
Kayaking In Halong & Lan Ha Bay
Responsible Travel
Being a responsible eco tour operator is at the heart of what ACTIVETRAVEL ASIA is all about. From the start, we have been committed to offering low-impact tours that benefit traveler and host alike. We work with local communities, businesses and individuals to develop sustainable tourism opportunities that help local economies while minimizing negative environmental and cultural impacts.