Cao Bang Trekking Highlights – What to do and where to go
Cao Bang is Vietnam's northeasternmost province near the border with China, and makes a fine alternative destination for adventurous travellers who want to avoid the crowds in Sapa. This is one of the ultimate frontier regions that offers beautiful elements for a wonderful trek. From rugged mountains to secluded hamlets, from least touched jungles to cascading waterfall, Cao Bang trekking adventure offers you a very distinct experience about nature and people in northern Vietnam.
Time to visit Cao Bang
Cao Bang is divided into two distinct seasons: the rainy season lasts from April to September and the dry season is from October to March.
-
If you intend to admire the beauty of Ban Gioc waterfall, the most suitable time is around August - September
-
If you like to
trekking Cao Bang
to see flowers, you can go at the end of the year, around November, this is the Trichet flowers season (equivalent to the Trichet flower season in Ha Giang)
-
If you like watching the snow, you should go in winter (last year to early next year), this time in the Pia Oac forest, the temperature is lowered, so this phenomenon is likely.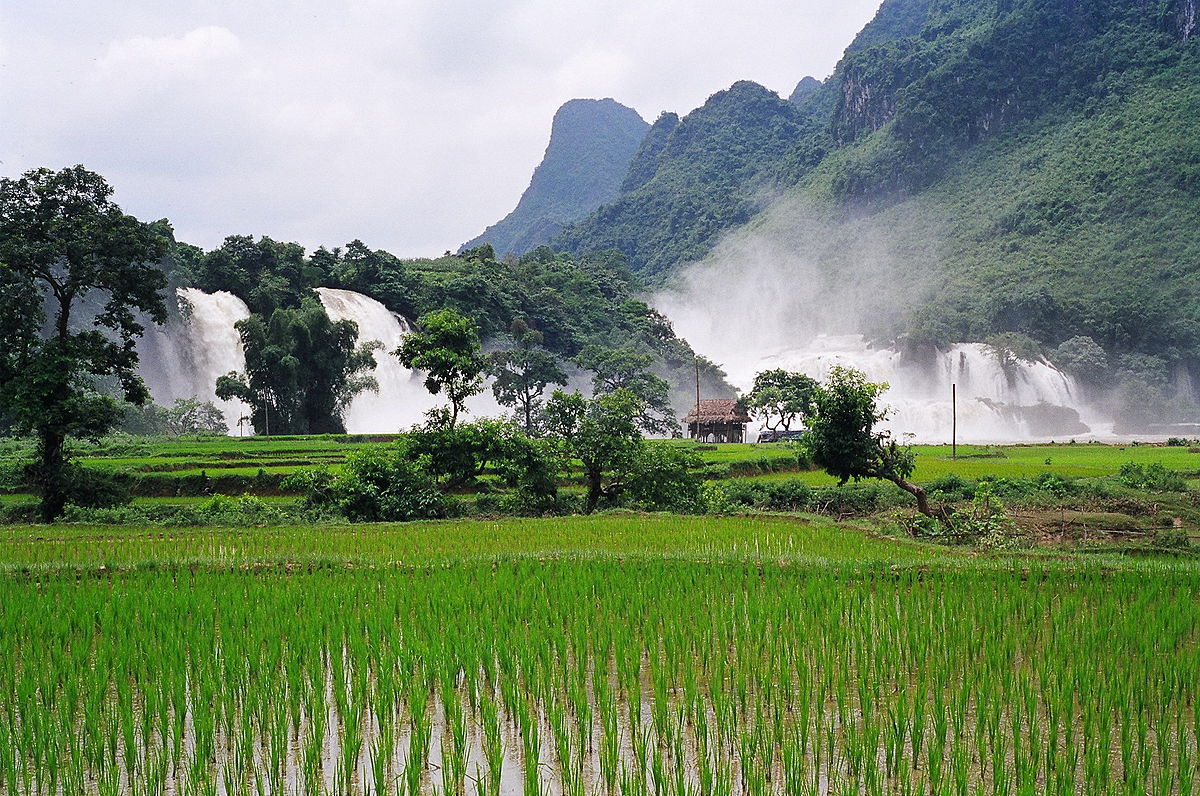 The majestic natural scenery attracts visitors to trekking in Cao Bang
Where to stay in Cao Bang
Hotels, motels in Cao Bang pretty much do not worry about the status of room, but before you go should also make reservations in advance to avoid expensive rental price. Room rates in Cao Bang range from 150,000 – 500,000VND depending on area and type of room. In addition, some locations in Cao Bang permit for camping. You can bring your sleeping tent to overnight. This is also an impressive and unforgettable experience in your trip.
Cao Bang Trekking Highlights
The vestiges of Pac Bo Cave
Pac Bo historical vestige in Truong Ha Commune, Ha Quang District, Cao Bang Province. This is the place President Ho Chi Minh lived and worked from February 8, 1941 to the end of March 1941. Its name in the Tay-Nung ethnic minority's language means "head of water". If you drink some water at the source of Le Nin stream, you will be ecstatic because it's pure, not a little dust. The road from the center of Cao Bang to Pac Bo is about 50 km long with the fresh and cool landscapes. At the entrance to the relics, there are some stalls selling snacks such as meat, sugar cane, pineapple juice. There are no restaurants in the relics, so the tour groups usually take lunch at camp next to the green stream. The scene is really dreaming and peaceful when you just eat bread just watching the fish that float under the clear water.
Lenin Stream
If you want to
trek in Cao Bang
, from the Pac Bo cave, you can trek a short distance to the Lenin Stream. As soon as you saw this stream, you will be astonished by its green color. The water here is very pure and clear. You can see both the fish swimming up below and the colorful dragonfly flying above. Fish in Le Nin stream is Lieng fish, when visitors drop noodle, they focus to eat a lot. You can camp by the stream for a rest, have a light lunch while enjoying the fresh and cool air here.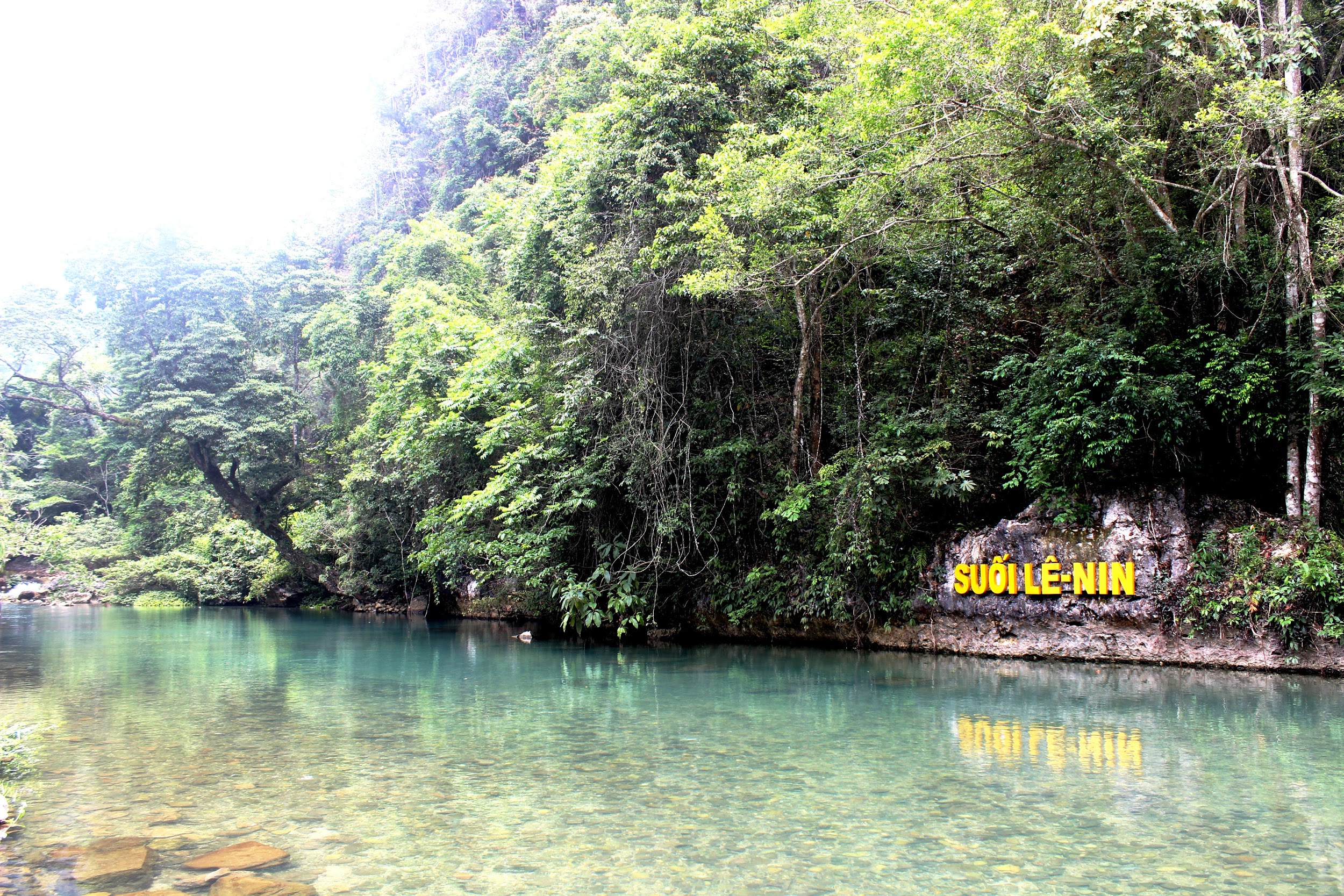 The cool and fresh water of Lenin stream
Ban Gioc Waterfall
Visitors from Vietnam can rent boats (50,000 VND / person) to paddle around in the stream near the main waterfall and admire the majestic landscape that is filled with green. While visiting Ban Gioc waterfall, you should note to wear slippers and flip-flops to wade. If you want to take beautiful photos, then take it on the cliffs off the shore. Water is very shallow so no problem. We recommend you to rent a boat to the middle of the lake, the price is 50,000 VND / person but look closer to the waterfall. And don't forget to prepare tents, plates, and snacks to stay in Ban Gioc.
Ba Be National Park
Ba Be is a national park with the harmony of mountains and rivers, a beautiful landscape in North Vietnam. This is one of the best places for
awesome kayaking & trekking
. With cool mountainous air, you can come to Ba Be at any time of the year. Here, you can admire the masterpieces of nature such as the Puong Cave - the most beautiful and worth seeing in Ba Ba with the interesting-shaped stalactites, Dau Dang Waterfall with pristine and romance beauty. Ao Tien that is surrounded by limestone mountains and primitive forest with many kinds of rare fish, etc.
Thung Mountain - Tuyet Tinh Coc
This is exactly a place not to be missed when trekking in Cao Bang. The scenery here is peaceful with a small village, the valley nestled between the mountains surrounding. You can prepare your camping gear in the lawn, absolutely do not litter or tease the cows and horses of the people. The nearby wildflowers are also the photographer's favorite spot to take some stunningly beautiful pictures. Tuyet Tinh Coc also has a special Thung Mountain - a mountain with a large hole, located in the valley of wildflowers.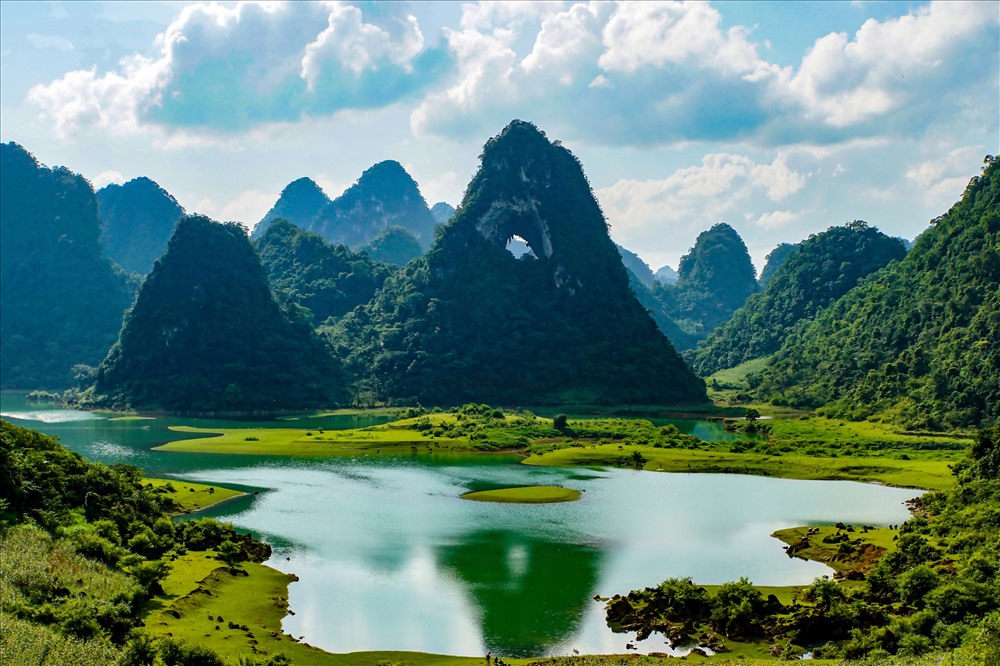 The Thung mountain marvel in Cao Bang
Nguom Ngao Cave
Nguom Ngao Cave is located in Gun Hamlet, Dam Thuy Commune, Trung Khanh District, Cao Bang Province, just 3 km from Ban Gioc Waterfall. This cave is a place not to be missed in your trekking Cao Bang trip. It is majestic with a length of 2,144 m, but only 900 m was exploited and put into operation. The temperature in the cave ranges from 18 to 25 degrees Celsius with many limestones, rock formations like lotus-shaped, peacock-shaped,... create a shimmering landscape. There is no cafeteria around the cave, but there is a counter for drinks. Visitors should prepare their meals at home for a rest in the gate of Nguom Ngao cave.
Thang Hen Lake
Thang Hen Lake is located in the middle of a romantic mountainous region and the green of the forests. It has the same road with Ban Gioc waterfall, about 30 km from the center of Cao Bang. Particularly, the lake is located on the mountain so visitors need to trek about 10 km through the pass to reach this lake. Regardless of the flood season or the dry season, the lake always has very pure and fresh green water. The area of Thang Hen Lake has become an ideal ecotourism for a trekking trip in Cao Bang. Around the lake there are cottages, there are boats to transport tourists to visit this special lake. You can also have fun camping around the lake.
If you love nature and exploring, go to Cao Bang at least once in your life to enjoy the pleasant atmosphere of this mountainous forests. There are so many things to discover and we promise that trekking Cao Bang will be an exciting trip! Active Travel Asia is always waiting to help you
customize a Vietnam adventure trip
.
Responsible Travel
Being a responsible eco tour operator is at the heart of what ACTIVETRAVEL ASIA is all about. From the start, we have been committed to offering low-impact tours that benefit traveler and host alike. We work with local communities, businesses and individuals to develop sustainable tourism opportunities that help local economies while minimizing negative environmental and cultural impacts.