Best trekking places for your trekking tours in Hoang Su Phi
Hoang Su Phi is one of the most beautiful land of terraced fields in Northern Vietnam. However, unlike other tourist attractions in Ha Giang, Hoang Su Phi attracts fewer visitors, which is why the district still retains its pristine beauty and serenity. If you want to have
Hoang Su Phi trekking tours
, here are some of the best trekking spots in the district that you should trek around.
A BRIEF INTRODUCTION ABOUT HOANG SU PHI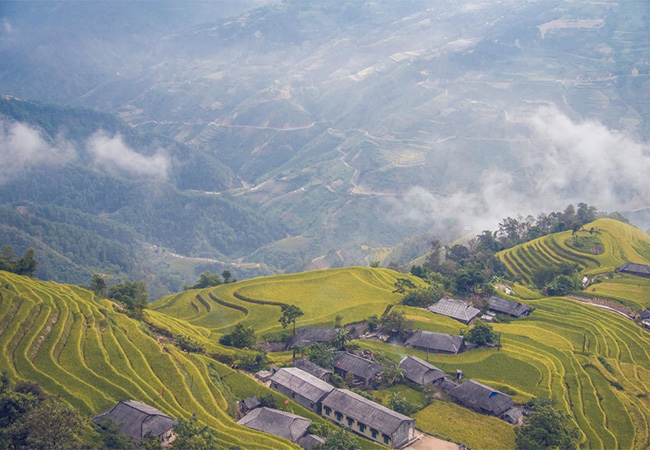 Terraced fields in Hoang Su Phi
Hoang Su Phi is a poor district located in the western part of
Ha Giang
province, about 110 km from Ha Giang city. The district has a relatively complex topography as it is divided into many parts by several high mountain ranges.It is home to 12 different ethnic minorities in which Nung people account for the largest proportion.
Many generations of Hoang Su Phi people have cultivated terraced fields on gentle slopes, creating ravishing beauty of valleys today. Coming to this place, the first thing that makes a strong impression on visitors is the vast space of the fields winding around the mountainsides and traditional small houses scattering in the valley below.
BEST TIME FOR HOANG SU PHI TREKKING TOURS:
There is only one harvest season in a year so in order to admire the most amazing scenery of the terraced fields, you have to choose to visit Hoang Su Phi at the right time.
Ripen rice season in Hoang Su Phi is from September to the end of October according to solar calendar, so this is also the most beautiful and suitable time for you to come here and walk around while enjoying the smell of fresh rice.
Besides, you can also go to Hoang Su Phi in the late Spring and early Summer, which is from March to May every year. This time of the year is also called "pouring-water season" in Vietnam's Northwest regions. During this time, farmers pump water into their fields to start a new rice crop, bring an incredible vista to the fields.
It can be said that terraced fields are the symbols of the district as thanks to the picturesque terraced fields and majestic natural landscapes, more and more tourists have got to know about this rural area. If you're planning your trekking trip in Ha Giang, Hoang Su Phi is definitely worth your time!
HOW TO GET TO HOANG SU PHI FROM HANOI
Hoang Su Phi is a relatively far from Hanoi, about 300km. The safest and most convenient mode of transport that tourists should choose is to take a bus from Hanoi to Ha Giang from My Dinh bus station for about 200,000 VND/trip. Then, you can rent a motorbike to continue moving from the center of Ha Giang city to Hoang Su Phi.
Those who are more adventurous can travel to Hoang Su Phi by personal vehicles such as cars or private motorbikes. The route that most travelers choose is: from the center of Hanoi, you pass Thang Long Bridge and continue on Thang Long - Noi Bai Highway to reach Vinh Yen. After that, continue to move to Viet Tri - Doan Hung - Phu Tho - Tuyen Quang to reach Ha Giang.
If you want to come Hoang Su Phi by personal means, you need to bring your identification and comply with the traffic law, which is very important when having such a long ride.
BEST TREKKING PLACES FOR HOANG SU PHI TREKKING TOURS
1. Ban Phung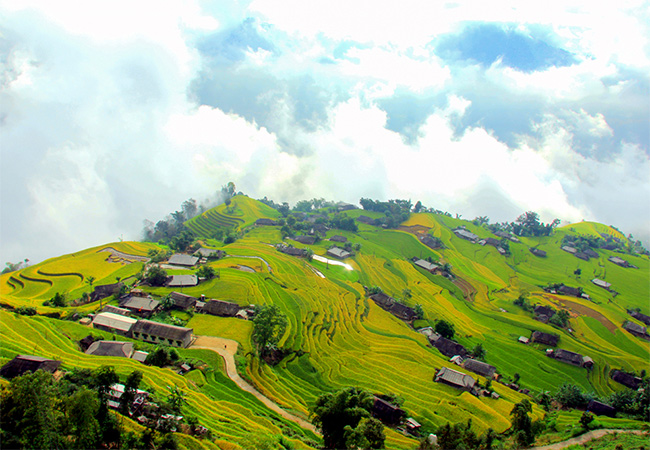 Ban Phung
Ban Phung is a commune located near the border between Ha Giang and China. From the center of Vinh Quang town, you have to follow a small mountain pass with the length of 30 km to reach the commune center.
Terraced fields in Ban Phung are located on steep slopes. Along with Ban Luoc, this is the place with the highest terraced fields in Vietnam.
Coming to Ban Phung in the ripe rice season, it is easy for visitors to see the clouds hanging over the fields. The whole village seemed to be floating on the cloud ocean - a fairytale scene which can make people resist the temptation of warm blankets at dawn just to watch the sunrise.
Rice in Ban Phung gets fully grown fairly late compared to other places - from early to mid October. So, if you can't come to Hoang Su Phi in September, do not worry, there is still an amazing Ban Phung awaiting.
2. Ho Thau
Ho Thau
Ho Thau is about 30 km from the center of Hoang Su Phi, where Red Dao people populate.Local people cultivate the fields using simple labor tools like hoes, harrows, shovels and knives. If you come here on special occasions, you can also participate in the traditional fire dance of Red Dao people.
3. Thong Nguyen
Road to Thong Nguyen
Thong Nguyen is a small commune, about 24 km from Hoang Su Phi, where 3 rivers converge: Phin Ho, Nam Ong and Nam Khoa. The commune is considered as one of the best places to see terraced fields in Hoang Su Phi.
4. Ban Luoc
Ban Luoc

Ban Luoc has the largest area of terraced fields in Vietnam - about 200 hectares. All the fields stretching from the valleys to the top of the mountains create a breathtaking view that you can't take your eyes off. Coming here, you will see many traditional wooden houses as well as stilt houses of Dao and Tay ethnic people. The deeper you go in to the village, the more you will see the majesty of Ban Luoc's nature.
5. Tay Con Linh mountain
A stunning panoramic view from Tay Con Linh mount
You are probably wondering: so that's all about Hoang Su Phi, terraced fields, right? Wrong. If you have more time, you can challenge yourself to conquer Tay Con Linh mount.
With a height of 2419 meters, Tay Con Linh is also known as the "Northeastern cone" and is one of the highest mountains in Vietnam. At the top of the mountain is a landmark and at the foot of the mountain is an immense tropical forest. To La Chi ethnic people, Tay Con Linh is considered to be a sacred mountain.
6. Chieu Lau Thi

View from Chieu Lau Thi


Chieu Lau Thi is also called the nine-storey mountain, located 42 km from Hoang Su Phi. If you are lucky enough, when you climb to the peak of the mountain early in the morning, you will see a sea of extremely beautiful clouds. The highest point of the mountain is 2,402 meters and is one of the highest peaks in northeastern Vietnam. It can be said that the peak is a highlight destination of your Hoang Su Phi trekking tours!
Around the mountain is a diverse ecosystem including a primeval forest. In Vietnam, this place is known as a land of Shan tea fields - a special kind of tea in Northern areas. Besides, there is a period of snowfall here when the winter comes, to the extent that a vast area is covered under 10-cm snow, making the place attractive to domestic tourists who are always excited about snow.
The trail leading to Chieu Lau Thi peak is rugged and dangerous but once you reach the highest point, you'll find the view totally worth your time and effort!
If you're interested, here are some recommended trekking tours:
Responsible Travel
Being a responsible eco tour operator is at the heart of what ACTIVETRAVEL ASIA is all about. From the start, we have been committed to offering low-impact tours that benefit traveler and host alike. We work with local communities, businesses and individuals to develop sustainable tourism opportunities that help local economies while minimizing negative environmental and cultural impacts.