Beautiful trekking trails in Bac Ha you can't miss out
Bac Ha is one of the attractive destinations, located in Northern Vietnam. In the recent years, It has become famous among not only domestic tourists but also foreign tourists. When coming to Bac Ha district, you should not miss out these beautiful
Bac Ha trekking trails.
An overview of Bac Ha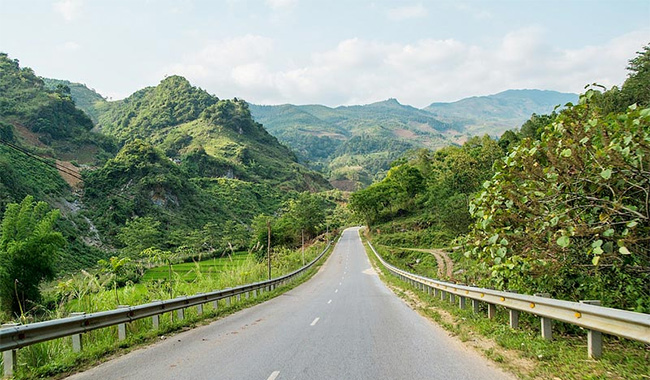 Bac Ha's Road
Bac Ha is a district of Northeast Lao Cai, about 300 km from Hanoi. It has many beautiful landscapes and a rich history. Coming here, you will be amazed by the majestic mountains, rivers and caves and welcomed by gentle and hospitable local people. This land is also a place of convergence of ethnic colors and specialties of the Northwest, creating a special attraction to retain tourists traveling to Bac Ha.
In addition, Bac Ha has been called with the name the "white plateau", because in the years 1985 - 1986 and earlier, in mountainous areas of Vietnam such as Lang Son, Lao Cai, Yen Bai, Lai Chau, Nghe An, local people planted many kinds of addictive plants like poppies and cannabis with an estimated area of 19,055 hectares. Nowadays, the district is still called with the same nickname, but not because of additive plants anymore. It's "white" because every spring, plum blossoms bloom white on all over the hillsides and mountains, as well as in home gardens.
Best time to visit Bac Ha
If you have never been to Bac Ha, you may wonder if you should come to this "White Plateau", right? Here are some special times of the year in Bac Ha for you to take into consideration:
In spring, before and after the Lunar New Year is the season of plum blossoms.

The traditional Bac Ha Horse Racing Festival is held in early June each year after the plums are ripe.

The Water and Soil Procession is held on January 15 every year.

Bac Ha Market is held every Sunday.

Bac Ha Temple Festival is held on July 7 of the lunar calendar every year.
Traveling from Hanoi to Bac Ha
Bac Ha is about 70 km from Lao Cai and about 300 km from Hanoi so to get to Bac Ha by bus, you have 2 options:
Option 1: Take the bus to Bac Ha directly from Hanoi, these buses will depart from My Dinh bus station. Currently, there are 2 bus operators operating this route, namely Hai Van and Sao Mai. Sao Mai bus has departures from Hai Phong so you can go directly to Hai Phong - Bac Ha. You can find contact information of these 2 bus brands on the internet.
Option 2: Going from Hanoi to Lao Cai then from Lao Cai to Bac Ha. To go from Hanoi to Lao Cai, you have the option of going by train. From Lao Cai Bus Station, there are many daily bus trips to Bac Ha, usually these buses depart from the morning until about 3pm, so you can choose the time that suits you best.
The 4 best Bac Ha trekking trails
1. Bac Ha town - Phố Village - Hoàng Thu Phố
This is one of the most beautiful trekking routes in Bac Ha and the route is always praised by the trekkers. With a total length of about 12 km from the town through Phố village and to Hoàng Thu Phố, the trail is suitable for those who are new to trekking. Phố village is one of the most beautiful Hmong villages in Bac Ha, just 3km from the town center. Coming here, visitors can admire the beauty of the village with yellow beaten-cob houses scattering from the middle of the mountains to the valley. Below is a lush green valley of corn and green rice. If you go trekking in the spring, you can also admire the white plum garden blooming all over the region, making the place a strange dream to the visitors.
Passing Phố village and going to Hoàng Thu Phố, you will have the chance to see an extremely majestic natural scenery of Northwestern mountains hidden under the sea of ​​clouds. Below, the terraced fields winding around the mountain slopes looks like a pretty picture, making it hard for you to take your eyes off it.
2. Bac Ha - Liền village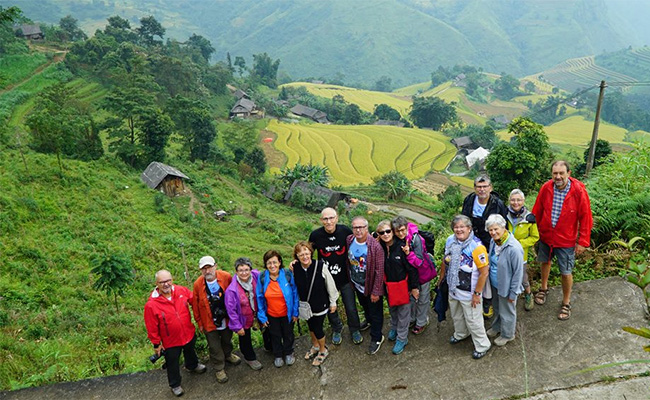 Tourists in Liền Village

Liền village is located about 28 km from the center of Bac Ha town. This trail is highly appreciated by many trekkers since the landscape is stunning along the trail. Tourists can admire the beauty of the endless terraced fields and the lush green Tuyet Shan tea hills when walking from Bac Ha to Liền village. Moreover, the road also leads you through the beauty of primeval old-growth forests with a lot of valuable woods.

If along Phố village - Hoàng Thu Phố route, you can encounter lovely HMong people, then along the way to Liền village, you will be attracted to the ancient beauty of the rusticTay stilt houses. As the trail is quite long, it will take you a lot of time to finish the trekk, so you can rest at one of the Tay's homestays at night. That will be an interesting experience.
3. Bac Ha town - Thải Giàng Phố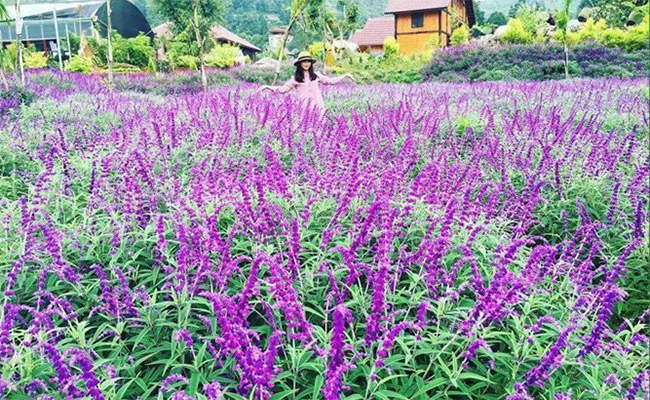 Flower valley in Thải Giàng Phố
Thải Giàng Phố is about 4 km from the center of Bac Ha town and it is best-known for the flower valley in which you can see various kinds of flowers such as cymbidium, roses, hydrangeas, daisies... Coming to the valley, visitors have the chance to enjoy the fresh air of the Hmong village, admire the large corn fields and green rice paddies.
The trail is short and easy, it is also a very nice path to go trekking on cool autumn days. Besides, if you are new to trekking or you want to bring your kids with you, this trail is an ideal option.
4. Bac Ha town - Lùng Phình - Tả Van Chư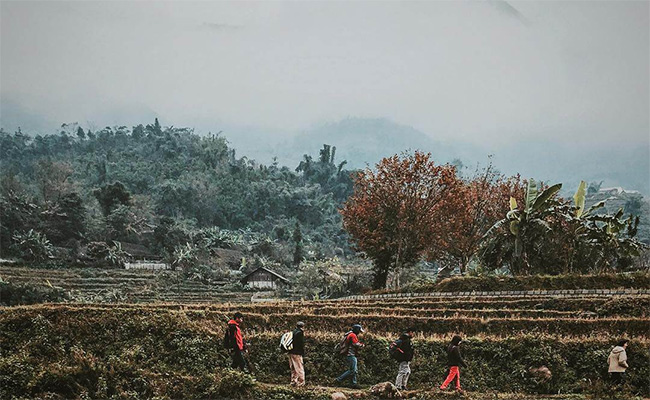 Trekking in Tả Van Chư
In addition to all the routes above, there is also a very famous route: Bac Ha Town - Lùng Phình - Tả Van Chư. Tả Van Chư commune is an attractive eco-tourism site in Bac Ha district. This place still retains many traditional culture imbued with national identity. It's about 20 km from Bac Ha town and the commune is considered to be a "miniature Sapa" because of its fresh, cool climate and diverse ecosystems. Ta Van Chu is located between two high mountain ranges on both sides of the Cháy river: Nàn Sin Range and Cao Son Range. Between the 2 mountain ranges are winding paths, looming over small villages, where most of the Mong people live. In the forest, there is also a beautiful scenic spot called Dragon Cave.
Responsible Travel
Being a responsible eco tour operator is at the heart of what ACTIVETRAVEL ASIA is all about. From the start, we have been committed to offering low-impact tours that benefit traveler and host alike. We work with local communities, businesses and individuals to develop sustainable tourism opportunities that help local economies while minimizing negative environmental and cultural impacts.